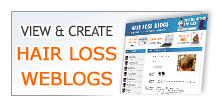 One of the benefits of sharing your experience and photos online is that you get feedback and support. Author your own free weblog at www.hairtransplantnetwork.com/blog and get direct feedback and comments posted on your personal blog.
Hair restoration is a journey. So it can be great to have others along for the ride.
This community's Hair Loss Weblogs make it easy to publish your own website/blog documenting your hair restoration or hair transplant experience. Once you have registered you can login at any time to update it, edit your information or deactivate it.
Creating Your Hair Loss Weblog:
Step 1) Register – Visit www.hairtransplantnetwork.com/blog and click on "Sign up and create your own Hair Loss Weblog". You will then register by creating a name and password for your weblog. A confirmation message containing your login ID and password will then be emailed to you. Click on the link in the message to activate your free weblog account.
Step 2) Create your Weblog – Login to create your hair loss weblog. You will be prompted to provide a photo of yourself and information to create your profile. After this you answer a few questions to provide details about your hair restoration experience. You can then update your Journal with new photos and comments over time.
Thanks for sharing your experience and advice by authoring a Hair Loss Weblog.
Pat, Publisher of the Hair Transplant Network and the Coalition Hair Loss Learning Center
Technorati Tags: Hair restoration, hair transplant, Hair Loss