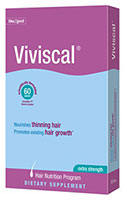 Viviscal hair loss treatment boasts of being able to stop hair loss and grow new, thicker and fuller hair in both men and women with thinning hair. But does this product really deliver on its promise of new hair growth?  Is Viviscal a scam or a credible hair loss treatment?
To learn what world class hair restoration physicians are saying about Viviscal and its active ingredient AminoMar C™, read our detailed product review, "Viviscal Hair Loss Treatment Product Review – Can it Really Promote New Hair Growth?".
Are you one of the many balding men and women worldwide seeking a natural alternative to proven medical hair loss treatments like Rogaine (minoxidil) and Propecia (finasteride) due to the fear of potentially harmful side effects?  While there may be no harm in adding Viviscal to your treatment regimen, men and women considering this hair loss treatments should be aware that Viviscal claims to reverse hair loss due to stress, poor nutrition and other health related ailments rather than genetic balding.
Visit our online product shop to view and purchase credible hair loss treatments for genetic baldness at some of the lowest prices online.
Always consult your doctor before starting any medical hair loss treatment.
—-
Technorati Tags: thinning hair, hair growth, scam, hair loss treatment, AminoMar C, product review, balding, hair loss treatments, Rogaine, minoxidil, Propecia, finasteride, hair loss treatments, balding