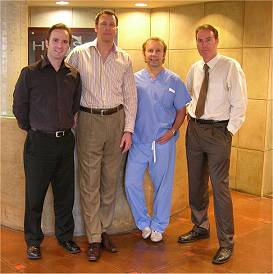 On Monday I had the privilege of watching Dr. Victor Hasson of Hasson and Wong and his staff perform a large 5,119 graft session of Ultra Refined Follicular Unit Grafting from 8 am until 8 pm in Vancouver, Canada. I also met and viewed two patients of Dr. Hasson and one patient of Dr. Wong while they were in the office having their staples removed. Another patient who posts on our forum as Qwert also came by the office and I examined his impressive results from one huge session of 6,544 grafts.
To view the photo album containing photos documenting this visit, click here.
It was a very full and interesting day, which confirmed much of what I had come to believe about Hasson and Wong over the past seven years.
Hasson & Wong and the Evolution of Follicular Unit Hair Transplantation
Those who have been visiting the hair loss forums over the past few years know that both Dr. Hasson and Dr. Wong have developed a strong reputation for performing very large sessions of refined follicular unit grafts. These grafts are carefully oriented in tiny lateral slit incisions in order to replicate the angle and direction of naturally occurring hairs.
Their impressive patient results, which have been well documented online by their many satisfied patients, have earned them a worldwide following of loyal patients. Their innovative use of the "lateral slit" technique to mimic the natural direction and orientation of hair, while optimizing the appearance of fullness and coverage, has been increasingly adopted by other leading edge clinics worldwide.
Hasson and Wong have pushed the outer envelope for what a patient can achieve in both fullness and refinement in just one surgical session. In doing so, they have raised the bar for excellence in their profession, while increasing the expectations of potential patients worldwide.
The three follicular unit surgical sessions that I had several years ago were just under 1,500 grafts each. Today these sessions  would be considered relatively small for my degree of hair loss. Yet at that time they were truly regarded as "follicular unit mega sessions".
The evolution of follicular unit hair transplantation toward greater numbers of highly refined follicular unit grafts that are placed into minimally invasive smaller incisions has enabled hair transplant surgeons to dense pack grafts, while successfully transplanting more hair in a single session. The benefits to patients have been quicker healing and greater density, fullness and naturalness from a single surgical session.
Patients who are good candidates for large and or densely packed follicular unit grafting have gravitated toward those clinics that have developed their capability to provide such Ultra Refined Follicular Unit grafting results. Hasson and Wong have been at the forefront of this evolutionary (if not revolutionary) movement.
The "Gold Standard" has risen. But only some clinics have risen  to the challenge.  
Only those clinics that have evolved both their techniques and capacity to enable them to successfully provide such large and refined sessions are eligible for membership in the Coalition of Independent Hair Restoration Physicians (see Coalition  membership standards). Those physicians who provide quality standard follicular unit grafting but have not developed their capability to provide large sessions of ultra refined follicular unit grafting are not eligible for Coalition membership.
The concept and benefits of the Ultra Refined Follicular Unit  Hair Transplantation  are readily apparent to patients who have researched hair transplantation in-depth. Yet why if the benefits are so obvious is this ultra refined procedure only performed by a small minority of hair transplant clinics?
In my opinion, the main reason is that such large and highly refined sessions are highly demanding on a clinic's staff and also the patient. Watching the large staff of over eight H & W medical technicians working from 8 am to 8 pm on only one patient indicates why such a big procedure is beyond the capability of most hair transplant clinics.
Yet patients with significant hair loss need to transplant large amounts of hair as economically as possible to achieve both a full and natural look (See animation entitled "Recreating a Full Look" to understand why only 50% of a patient's originally density needs to be restored to re-establish a full look). Certainly most hair transplant patients would prefer to do this in as few surgical sessions as possible and for a minimal cost per graft or hair moved (See our animated graft calculator for various amounts of hair required to cover different degrees of hair loss).
Hasson and Wong and many other Coalition clinics not only provide larger sessions, but the price per graft decreases as the size of the session increases. For Hasson and Wong the price per graft declines to $2.50 (US dollars) per graft after the first 2,000 grafts, which are priced at $4.50 per graft. This does make moving large numbers of grafts more economical and thus achievable for the patient.
My observations of the 5,119 graft session by Dr. Hasson and Staff
To view the photo album containing photos documenting the surgery, click here.
Dr. Hasson's patient on Monday was a very good candidate for a large ultra refined hair transplant session. He was extensively bald (class 6) with plug grafts in his crown from previous work from another clinic over 15 years ago.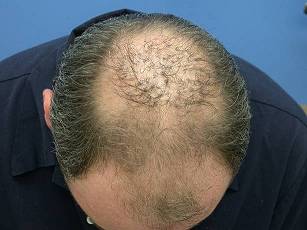 The patient's goal was to mask the plugs in his crown, while re-establishing his hairline and as much coverage as possible in one surgical session. To maximize the laxity (flexibility) in his donor area he did donor stretching exercises every day for one month prior to his surgery. This resulted in his donor laxity being above average on the day of surgery. He also had good hair density in his donor area. He also had the financial resources to afford a 5,000 plus graft session.
Given the patient's characteristic and goals, Dr. Hasson was confident that he could harvest a long and relatively wide donor strip that when dissected under microscopes would yield 5,000 plus grafts. Dr. Hasson and the patient discussed the optimal distribution of these grafts to meeting his expectations. The hairline was drawn and redrawn until both the patient and Dr. Hasson found it to be optimal. Given that the patient wanted coverage across a large area from the hairline to the back of the crown, it was understood that the density, even with 5,000 grafts, would not be high.
Dr. Hasson then shaved a relatively wide and long patch in the patient's donor area that went from in front of one ear to in front of the other ear. He then marked out the donor strip to be removed. At its widest area it measured two centimeters averaging an estimated 1.8 cm in width from end to end. The approximate length was 30 centimeters. Thus the total estimated size of the donor strip was approximately 54 square centimeters, which at an average density of 100 follicular units per square centimeter, could be expected to contain approximately 5,400 follicular units.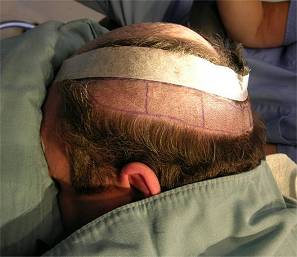 Such a large donor strip is unusually long and large by industry standards. In fact in all my surgical visits to dozens of hair transplant clinics over the years I have never seen so much donor tissue removed in one session. Many hair transplant physicians are reluctant to remove so much donor tissue in any one single session due to concerns about potential wide donor scars.
However, for a minority of candidates, Dr. Hasson is willing to remove relatively large donor strips. He believes that his donor removal and staple suturing techniques enable him to do this while safely avoiding cosmetically significant donor scars. Given that many of his patients learn about him on the forums and have regularly reported satisfaction over the years with both their results and the healing of their donor area, I believe that he has been successful with his technique.
Personally, for patients who need to move very large numbers of grafts, I like the concept of very long donor strips that harvest hair follicles not only from the back of the head but also the sides. To limit donor harvesting to the back of the head limits the fullness and coverage that a patient can ultimately achieve. In addition, leaving the sides dense and thick, while the top of the head is thin is a poor distribution of hair in my opinion and creates a styling imbalance.
Dr. Hasson excised the marked donor area into four sections using a single bladed scalpel, while being careful to avoid transecting (severing) hair follicles along the edges. He also trimmed the upper and lower edges of the donor area using the trichophytic closure technique.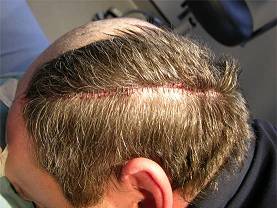 He then sutured the donor area together using staples. Dr. Hasson believes that staples provide a secure closure even under tension, which also does not bind or strangulate the donor tissue like a running suture might when closing under tension.
The sections of donor tissue were then carefully trimmed under microscopes into very refined and small follicular unit grafts that contained a minimal amount of excess tissue. Given the tiny size of the lateral incisions (as small as .65 millimeters for the one hair grafts), which minimize trauma to the scalp, the grafts need to be as small as possible in order to fit in these incisions.
My Observations Regarding Graft Sizes and Trimming
Given the need to produce such tiny grafts, the technicians  need to create small grafts, which some have argued may on average contain fewer hairs than the follicular unit grafts created at many other leading hair restoration clinics. I tried to assess the validity of such a claim by both observing the hair counts in the grafts being trimmed and the size of the donor strips being removed. However, one day of observations provided too limited a sample of patients to make any definitive conclusions on this issue.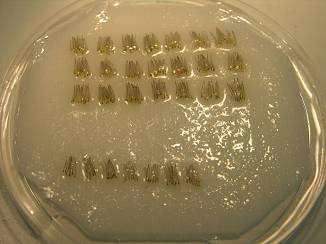 Dr. Hasson's technicians typically place their trimmed grafts into a petri dish that is divided into two groupings – one group containing the one hair grafts and the other containing multi hair grafts. My understanding is that they do not keep a "graft count sheet" that would have provided a breakdown for the number of 1, 2, 3 or 4 hair grafts. Thus they could only provide me with a total graft count of 5,119 grafts. However, no count for the total number of hairs in these grafts or the hair composition of these grafts was available.
Many of the other leading clinics I have visited keep detailed count sheets which enable a person to see not only the final graft count but the number of hairs in each graft. I find such detailed information useful, since the trimming of grafts is rather subjective and the average number of hairs per graft can vary from clinic to clinic.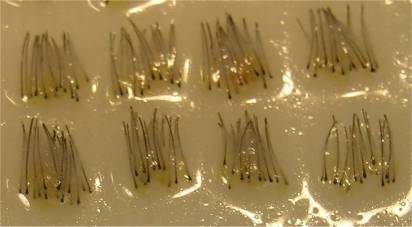 Upon closely examining the multi haired grafts I found that the vast majority contained two hairs each, while three hair grafts were very rare. I found no four hair grafts. However, the number of hairs in a typical follicular unit does vary from patient to patient. Perhaps this particular patient had a disproportionately high number of single and double hair follicular units than the average patient. According to a published study the typical distribution of hairs in follicular units is – 14% one hair, 51% two hairs, 29% three hairs, 6% four hairs.
When I asked two of the technicians about the lack of 3 and 4 hair grafts they told me that three hair grafts are the largest size they cut. Thus while the average number of hairs per graft does vary from patient to patient, the often quoted average number of hairs per follicular unit in the average patient is 2.3 hairs per follicular unit. Without a final hair count per graft I had no way of knowing if this patient's follicular units had more or less than the average 2.3 hairs per follicular unit or not.
Comparing "Apples to Apples" by comparing total hairs transplanted
Perhaps I'm splitting the proverbial hairs. But I believe that physicians and their patients should ideally provide not only their final graft count but also the amount of hairs moved so that patients and potential patients can compare "apples to apples". After all, ultimately it is the amount of hairs and how they are distributed in the recipient area that determines what a patient achieves.
Some clinics cut grafts that contain "follicular unit families" (follicular units that are so close together that they are trimmed into one multi hair graft). Thus the amount of hairs such grafts transplant to the recipient area is high. Yet such multi haired grafts count as only one graft.
Patients and physicians can debate the aesthetic, practical and economic merit of different graft sizes and excellent points can be made by advocates of both large and small grafts. But in my opinion detailed information about the hair composition of the various grafts should be available to all parties in the debate. Information about the size of size of the donor strip removed would also be useful.
Personally I'm biased in favor of sessions that provide large numbers of refined follicular unit grafts rather than large multi haired grafts. But in fairness to all I think hair counts should be provided in addition to graft counts.
After viewing three other patients who came into the office on Monday to have their staples removed, I found that the size of their donor strips seemed consistent with their high graft counts.
For example, one of these patients of Dr. Hasson's  had 4,200 grafts  yielded from a donor  strip that was approximately 30 cm by 1.5 cm for a total of 45 square centimeters of donor tissue removed. Given that the average patient has approximately 100 follicular units per square centimeter, one would expect this amount of donor tissue to yield approximately 4,500 follicular unit grafts.
The other two patients also had very long donor strips removed from the front of one ear to the front of the other ear. Dr. Wong's patient got 3,117 grafts and the other patient of Dr. Hasson got 4,150 grafts. Given the relatively long donor strips removed, I find that such follicular unit graft counts  seem realistic.
Creating Lateral Incisions
While the grafts were being prepared by the staff, Dr. Hasson trimmed the patient's hair in the recipient area so that he and his staff could better judge the angle and direction of the hair in the recipient area. He then began creating carefully oriented lateral incisions starting at the hairline. He used tiny blades that he cut using his custom blade cutting devise. By cutting his own blades of various sizes and cutting angles he can exercise greater control over the size and depth of the incisions he makes.
For example, for tiny one hair grafts placed into the hairline he often uses blades that are tiny as 0.65 millimeters in width. Such tiny blades create the minimum size incision needed for a given graft, thus minimizing the trauma to the scalp. Thus more incisions can be made closer together, while keeping the trauma to the scalp minimal. Such small incisions also heal faster.
While making the incisions in the hairline area, Dr. Hasson positioned the blade so that the plane of its flat cutting edge was angled about 40 degrees above the scalps surface. He then worked his way back from the hairline as he staggered these lateral incisions in a checker board fashion. By staggering the tiny gaps between the incisions and ultimately the transplanted hairs, this pattern will minimize the ability to see into and through the transplanted hair.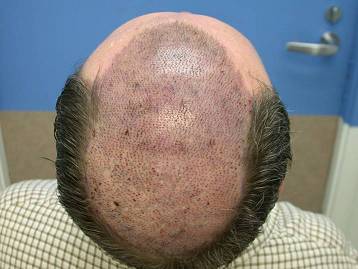 In addition, by keeping the plane of the incision relatively flat to the scalp the larger two and three hair grafts will tend to fan out over the scalp in a shingling manner and thus cover more of the bald scalp. Thus the angle and plane of the incisions will determine not only the direction of the transplanted hair but how it covers the scalp.
The tiny grafts were then placed into these lateral incisions by two of Dr. Hasson's lead medical technicians. In my opinion, the patient's recipient area was exceptionally clean due to the small size of both the grafts and the minimally invasive incisions.
Observations of other Hasson and Wong Patients
During the day I also met and viewed two patients of Dr. Hasson and one patient of Dr. Wong who were in the office having their staples removed. The two patients of Dr. Hasson both had just over 4,000 graft sessions performed about ten days prior. Both had long donor strips removed from the front of one ear to the other. I thought their donor areas had healed well, with no signs of any complications.
Their recipient areas also looked very clean and impressive. Both patients were very pleased with their hair transplant experience and results.
The patient of Dr. Wong had just over 3,000 grafts. His results also looked impressive in both the recipient and donor area and he was very pleased with his results.
To view their pre op and ten day post op photos click below –
Another patient who posts on our forum as Qwert also came by the office (View his hair transplant photo album on our forum). He had done extensive research online for over two years before choosing Dr. Hasson for his surgery.   I examined his results from one huge session of 6,544 grafts and I found his results to be very impressive. As you would imagine from looking at his results he was very pleased with both the naturalness and density from this one session.
Issues, Controversies
Hasson and Wong have generated a great deal of excitement online and offline over the past few years. Yet while many patients and physicians have embraced their techniques and philosophy, some observers have remained skeptical.
Some experienced hair restoration physicians feel that in their clinics they are already taking the largest amount of donor tissue that they think can be safely removed during any given surgery without resulting in excess donor scarring. They are then carefully dissecting this donor tissue under microscopes into 1, 2, 3 and 4 hair follicular unit grafts and still yielding smaller total graft counts than Hasson and Wong patients are reporting online.
This has led some of these hair transplant surgeons to conclude that Hasson and Wong are either removing larger donor strips than they believe are safe to remove and or that Hasson and Wong are cutting smaller grafts that on average contain less hairs per graft (i.e. "sub follicular unit grafting").
Others feel that large mega sessions in excess of 4,000 grafts may over tax the blood supply and or create excess trauma to the scalp that might reduce the final growth rates. In their opinion the large size of these huge sessions might then mask a possible lower rate of successful hair growth.
My Opinion
As a non physician my opinion and judgment is limited by my lack of hands on experience. However, I have observed the hair restoration profession and dozens of hair transplant surgeries over several years, as well as viewed hundreds of reports and photos from actual patients.
My opinion is that Hasson and Wong are consistently achieving successful growth rates and acceptable donor scars even in their very large 4,000, 5,000 graft and even larger cases. I believe that the tiny minimally invasive lateral incisions they create enable them to safely transplant high numbers of grafts close together with high rates of regrowth.
I also believe that for appropriate patients with high scalp laxity and elasticity – large and relatively large donor strips can be removed and closed under tension using staples, while yielding cosmetically acceptable donor scars. However, all things equal, such larger donor strips do increase the chances for increased scarring in the donor area.
Given feedback that I have received from medical experts who have observed Hasson and Wong's graft trimming and based on my own observations, I do believe that Hasson and Wong may have a tendency to create highly refined grafts that on average have a slightly smaller number of hairs per graft than at other clinics doing follicular unit grafting. I do not see this as either a negative or positive tendency.
Hundreds of Hasson and Wong patients have shared their surgical experiences and results online over the years. Our hair restoration discussion forum is open to both positive and negative comments. Yet the feedback and photos from patients have been overwhelmingly positive, including comments about growth rates, density and donor scarring. I encourage visitors to our forum to use the "Find" feature to search for posts about "Hasson" and or "Wong".
While I believe that many physicians remain skeptical of these huge sessions due to their genuine concern for their patients' long term well being, I believe that some physicians criticize Hasson and Wong in order to justify their unwillingness to expand both their capacity and skill.
I remember similar criticisms were made about the original 1,500 graft mega sessions of follicular unit grafts. Now today in hindsight such criticisms about such irresponsibly large "mega" sessions seem conservative and defensive.
Follicular unit grafting has certainly evolved over the past several years from when I had my first session of 1,450 with Dr. Ron Shapiro over eight years ago (Veiw my Hair Loss Weblog for my photos). Today I expect that if I were doing my first surgery with Dr. Shapiro I would be doing a session in excess of 3,000 and perhaps even 4,000 grafts. With such a surgery I would achieve both higher density and coverage in less time and with less surgical sessions.
But not all "follicular unit" surgeons and clinics have progressed and developed the capacity to provide such Ultra Refined Follicular Unit Hair Transplantation. Many hair restoration clinics continue to believe that maximum sessions of 1,500 to 2,000 follicular unit grafts are sufficient to satisfy even patients with extensive hair loss.
But to patients educated online such hair transplant clinics that can't provide large sessions and or dense packing are  generally dismissed as second tier non contenders.
Today patients online compare clinics and results internationally, even if they would ideally like to do surgery locally. But many find the results of the  outstanding clinics so compelling that they will travel long distances to get optimal life long results.
Clinics such as Hasson and Wong and other leading clinics are drawing patients not only from across North America but from India, the Middle East, Europe and Asia.
I certainly did not create ultra refined follicular unit grafting. I only coined the phrase to identify  and recognize an  advancement that became obvious to me and hundreds of other hair transplant patients.
The bar for excellence has moved higher and almost all patients online know it, even if physicians don't. Standard follicular unit grafting, while it certainly improved my life and the life of thousands of other patients, is barely an "also ran" these days.
Those clinics who embrace the newest ultra refined follicular unit grafting techniques and share their results online will benefit from an inexpensive stream of excited and educated patients. They will earn the respect and patronage of the majority of online patients.
Those who master ultra refined follicular unit grafting will be eligible for membership in the Coalition of Independent Hair Restoration Physicians. Those who make excuses and resist change will find themselves wondering why the Internet doesn't work for them.
After the issues and techniques are debated, it is the hair transplant patient who makes the final choice. And these days they are choosing to travel to those physicians like Hasson and Wong who provide Ultra Refined Follicular Unit Hair Transplantation.
I invite patients, physicians and others to contribute their comments to this topic by clicking on the reply button.
Onwards and Upwards,
Pat Hennessey, Publisher of the Hair Transplant Network and the Coalition Hair Loss Learning Center
View my story and photos on my Hair Loss Weblog
Technorati Tags: Dr. Victor Hasson, Hasson and Wong, Ultra Refined Follicular Unit Grafting, hair loss forums, lateral slit incisions, lateral slit, follicular unit mega sessions, follicular unit hair transplantation, follicular unit grafts, hair transplant surgeons, hair transplantation, hair transplant clinics, hair loss, hair transplant, hair transplant physicians, trichophytic closure, follicular unit grafts, hair restoration, hair restoration physicians, hair transplant surgeons, Ultra Refined Follicular Unit Hair Transplantation