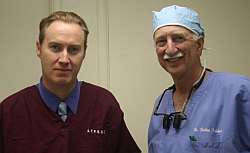 Dr. Kabaker has been recommended on the Hair Transplant Network for several years. View his profile – on the Hair Transplant Network.
Dr. Sheldon Kabaker is renowned among hair restoration physicians for his superb surgical skill, which he developed and refined over the past thirty years.
During my visit he and his staff performed a small session of 1,100 grafts into a patient's crown area. Dr. Kabaker removed the donor strip using a single bladed knife and then did a double layer closure so that the internal sutures would reduce tension on the skin level external sutures. He believes this produces a minimal donor scar. He then used a 19 gauge needle to create graft incisions of about 0.9 millimeters in size.
In addition to the quality follicular unit grafting that he performs, Dr. Kabaker has developed a reputation for being an expert at female hairline lowering, below is an example.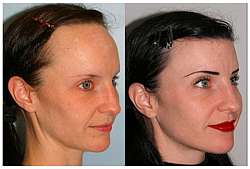 This can be a cost effective surgical solution for women who have naturally high hairline that they want lowered. Many women feel that the high hairline makes them look masculine or older.This is not due to hair loss but rather their heredity.
Although transplanting hair to recreate a lower hairline is an option, such transplantation normally requires multiple sessions to create a hairline that is sufficiently dense.
Dr. Kabaker's hairline lowering surgery lowers a person's hairline in one session. This out patient surgical hairline procedure involves excising excess tissue immediately below the existing hairline and then moving the hairline forward and down. He uses a trychophytic closure so that the hair will grow up and through the scar thus hiding the incision/scar. This procedure can also be combined with a brow-lift to give the patient additional benefits.
The complete visit details and images are on our Hair Restoration Forum.
Technorati Tags: Hair Transplant, hair restoration, follicular unit, hairline lowering, trychophytic closure