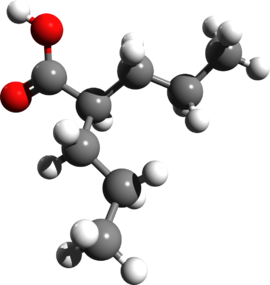 Valproic acid is an anticonvulsant and mood-stabilizing drug used in the treatment of epileptic seizures. However, a recent study conducted by researchers at the Seoul National University College of Medicine showed that the acidic chemical compound may also promote hair growth in those suffering from genetic hair loss.
Background
Wnt signaling pathways are a group of signal transduction pathways made of proteins that pass signals from outside of a cell through cell surface receptors to the inside of the cell. Beta-catenin is the transducer of Wnt and is critical for the development and growth of hair follicles. In the absence of Wnt signals, cytoplasmic Beta-catenin is phosphorylated by glycogen synthase kinase GSK-3 and then degraded. Therefore, inhibition of GSK-3 may enhance hair growth via Beta-catenin stabilization. Recently, valproic acid was reported to inhibit GSK-3 in neuronal cells, but its effect on human hair follicles remains unknown.
Method
The study investigated the effects of valproic acid on cultured human dermal papilla cells, outer root sheath cells and on an in vitro culture of human hair follicles.
Result
The results of the study showed that valproic acid not only enhanced the viability of human dermal papilla cells and outer root sheath cells but also promoted elongation of the hair shaft and reduced catagen transition of human hair follicles in organ culture model.
Valproic acid treatment of human dermal papilla cells led to increased Beta-catenin levels and nuclear accumulation and inhibition of GSK-3 by phosphorylation. In addition, valproic acid treatment accelerated the induction of anagen hair in 7-week-old female C57BL/6 mice.
Conclusion
Valproic acid enhanced human hair growth by increasing Beta-catenin and may one day serve as an alternative medical hair loss treatment to the clinically proven and FDA approved drugs Rogaine (minoxidil) and Propecia (finasteride). However, more research and testing is required before this treatment becomes available to the public.
Balding men and women seeking a solution to thinning hair are encouraged to consult with a dermatologist specializing in hair loss or an experienced hair restoration physician to learn about credible solutions available today.
—-
David (TakingThePlunge)
Editorial Assistant and Forum Co-Moderator for the Hair Transplant Network, the Coalition Hair Loss Learning Center, and the Hair Loss Q & A Blog.
To share ideas with other hair loss sufferers visit the hair loss forum and social community
Technorati Tags: Valproic acid, hair growth, hair loss, catagen, anagen, hair loss treatment, Rogaine, minoxidil, Propecia, finasteride, Balding, thinning hair, hair restoration