This question comes from a member of our Hair Loss Social Community and Discussion Forum:
While researching hair transplant surgery I've noticed that some physicians utilize nape hair during transplant procedures. I'm curious, is nape hair resistant to future hair loss like follicles harvested from the universal donor region, or are these hairs susceptible to progressive male pattern baldness?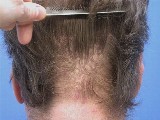 Nape hair, in my opinion, is a bit of a grey area. With normal androgenic alopecia (male pattern baldness) certain, generalized areas are affected by hair loss and create the familiar balding patterns associated with charts like the Norwood balding scale.
However, at the root of the hair loss is a hormone, dihydrotestosterone (DHT), that attacks susceptible follicles (those outside the universal safe zone) and creates the balding patterns.
Although the nape hair area (back of the neck/lower region of the scalp) may not constitute a region that fits a Norwood balding pattern, the hairs are still susceptible to DHT and therefore can be affected (to some extent) by male pattern baldness.
Normally, individuals who experience nape loss are advanced hair loss sufferers (Norwood VI and VII), but technically any individual experiencing androgenic alopecia could see some level of nape hair recession.
_______________
Blake Bloxham – formerly "Future_HT_Doc"
Editorial Assistant and Forum Co-Moderator for the Hair Transplant Network, the Hair Loss Learning Center, the Hair Loss Q&A Blog, and the Hair Restoration Forum
Follow our community on Twitter
Watch hair transplant videos on YouTube
Get Proven Hair Loss Treatments at the Best Prices by visiting our new Online Hair Loss Product Store
Technorati Tags: Hair Loss, hair transplant surgery, nape hair, universal donor region, male pattern baldness, androgenic alopecia, balding, Norwood balding scale, dihydrotestosterone, DHT, hair loss sufferers