This question comes from a member of our Hair Restoration Social Community and Discussion Forums:
I recently underwent a follicular unit transplantation (FUT) procedure, and my hair transplant surgeon recommended that I apply Vitamin E to the incision site to help prevent scarring. Is this a valid technique?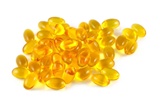 Vitamin E is used pretty frequently for preventing scarring in general (not just in scarring from hair transplant procedures). From what I understand, there are experts who believe that Vitamin E helps with reduced scarring and quicker healing, and others who don't quite believe the research is significant enough to recommend using Vitamin E. For example, Coalition hair restoration surgeon Dr. Glenn Charles had the following to say regarding Vitamin E usage after hair transplant surgery:
I agree with your surgeon, and also recommend that my patients use Vitamin E oil as soon as the sutures are removed. I instruct them to apply it to the area at night before bed and wash it off in the morning. It can also be used in the recipient area if the scabs are not falling off on their own after 7 days.
As demonstrated by Dr. Charles, if your hair transplant surgeon recommended using it, I would follow his (or her) post-operative instructions. Additionally, you should probably contact the clinic and ask how long they suggest using the Vitamin E.
_______________
Blake – aka Future_HT_Doc
Editorial Assistant and Forum Co-Moderator for the Hair Transplant Network, the Hair Loss Learning Center, the Hair Loss Q&A Blog, and the Hair Restoration Forum
Follow our community on Twitter
Watch hair transplant videos on YouTube
Get Proven Hair Loss Treatments at the Best Prices by visiting our new Online Hair Loss Product Store
Technorati Tags: Hair Restoration, follicular unit transplantation, FUT, hair transplant, hair transplant procedures, hair restoration surgeon, hair transplant surgery