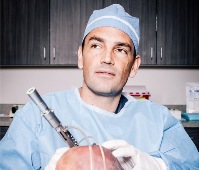 Coalition hair transplant surgeon Dr. Carlos Wesley's scarless FUE (Follicular Unit Extraction) or Piloscopy is one of the most highly anticipated future hair loss treatments developing today. The new and highly advanced nature of Piloscopy has made the testing and approval of the procedure a thorough and lengthy process. In a recent article written in "The Verge," however, Dr. Wesley provides hopeful hair loss suffers with an exciting update.
In the article, Dr. Wesley discusses the device, what drove him to create such a novel procedure, and what patients can expect from Piloscopy. The piece explains what Dr. Wesley went through developing the new procedure, and may help eager patients understand Piloscopy's potential.
Interested in reading more? If so, please see the following: Update on Scarless Surgery (Piloscopy). 
Stay tuned for more updates on Dr. Wesley's scarless FUE!
_______________
Blake – aka Future_HT_Doc
Editorial Assistant and Forum Co-Moderator for the Hair Transplant Network, the Hair Loss Learning
Center, the Hair Loss Q&A Blog, and the Hair Restoration Forum
Follow our community on Twitter
Watch hair transplant videos on YouTube
Technorati Tags: hair transplant, scarless FUE, Follicular Unit Extraction, Piloscopy, future hair loss treatments, hair loss