I had a hair transplant and i use Toppik for hair loss.     I've heard that  toppik makes you go bald.   Is this true?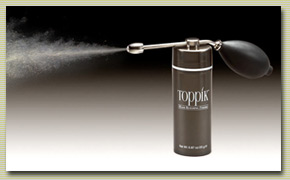 Toppik  is a concealer that is designed for one purpose: camoflauge your hair loss to the world.   Toppik works by creating an illusion of hair density by temporarily increasing the hair shaft thickness and darkening the scalp to blend with your hair.  
Toppik can be used approximately 10 days after your hair replacement  surgery or when the scabs/crusts have been removed from your scalp (whichever comes latest).    I say this because it's important to give your scalp the proper time to heal and after 10 days, the transplanted hair will be permanently secured to your balding scalp.   Toppik can be a great product to help conceal not only your baldness but the fact that you've had hair transplant  surgery.  
Despite what you may have heard, toppik does not cause, facilitate, or expedite natural hair loss.   Genetic hair loss however, is a progressive condition so it is important that you consider the use of FDA approved hair loss drugs such as Propecia (finasteride) and Rogaine 5% (minoxidil) to fight against future hair loss.   Be sure to consult with a physician and learn about the benefits, limitations, and potential side effects of these hair loss drugs.
I hope this helps.
Bill
Associate Publisher of the Hair Transplant Network and the Hair Loss Learning Center
View my Hair Loss Weblog
Technorati Tags: hair transplant, Toppik, hair loss, bald, hair density, hair shaft, transplanted hair, balding, baldness, natural, Genetic hair loss, FDA approved, hair loss drugs, finasteride, minoxidil, future hair loss