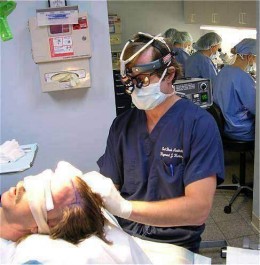 In recent years, surgical hair restoration has become increasingly popular among balding men and women seeking a solution to the devastating effects of hair loss. But, finding a quality hair transplant surgeon is not a simple matter of cracking open your local telephone directory or performing a quick Google search. Unfortunately, there are many clinics around the world performing outdated and downright poor quality hair transplants compared to the elite few performing state of the art, ultra refined follicular unit hair transplantation.  Prospective patients must educate themselves not only about the procedure itself but also how to identify and locate these world-class surgeons.
The good news is that the information age has made it easier than ever to conduct effective research from the comfort of your own home. The Internet provides the tools, but where should you begin and what do you really need to know? You only get one shot at a first hair transplant and choosing the wrong doctor can have serious consequences.
For in-depth advice on how to conduct your hair transplant research and ensure a successful outcome, read the article, Choosing a Quality Hair Transplant Surgeon.
—-
David (TakingThePlunge)
Editorial Assistant and Forum Co-Moderator for the Hair Transplant Network, the Coalition Hair Loss Learning Center, and the Hair Loss Q & A Blog.
To share ideas with other hair loss sufferers visit the hair loss forum and social community
Get Proven Treatments at the Best Prices by visiting our new online hair loss treatment shop.
Watch hair transplant videos on YouTube
Follow us on: Facebook | Twitter | YouTube
Technorati Tags: hair restoration, balding, hair loss, hair transplant, hair transplants, hair transplantation