Although most hair loss sufferers associate quality hair transplant surgery with the skill and expertise of the operating hair restoration physician, excellent results would not be possible without highly trained and dedicated hair transplant technicians.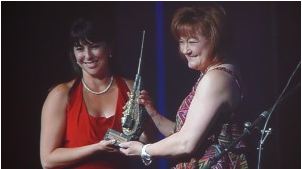 Experienced techicians are responsible for microscopically dissecting the donor strip during Follicular Unit Transplantation (FUT) cases and carefully placing the trimmed, prepared grafts during both FUT and Follicular Unit Extraction (FUE) cases.  Thus, the outcome of a hair transplant procedure is highly dependent upon the skill, knowledge, and dexterity of the technicians/assistants.
Therefore, it is not difficult to understand why the International Society of Hair Restoration Surgery (ISHRS) would honor crucial team members each year by awarding one dedicated technician with the Distinguished Assistant Award at the annual ISHRS Meeting.
This year, the 2012 ISHRS Distinguished Assistant Award was awarded to Tina Lardner, the lead technician for recommended hair transplant surgeon Dr. James Harris.
For the past 16 years, Tina has served as the lead surgical assistant/technician at the Hair Science Institute, helped develop new techniques for handling extracted follicular unit grafts, and also acted as a teacher and lecturer for a variety of hair technician training courses. Because of her dedication to improving and evolving the crucial role of the hair transplant technician, we cannot think of a more deserving candidate for the ISHRS Distinguished Assistant Award.
Please join me in congratulating Tina for winning the Distinguished Assistant Award at the 2012 ISHRS Meeting in the Bahamas.
To see highlights from this year's ISHRS meeting including details on the hot topics discussed, visit "Highlights from the 2012 ISHRS (International Society of Hair Restoration Surgery) Scientific Meeting in the Bahamas".
____________
Blake – aka Future_HT_Doc
Editorial Assistant and Forum Co-Moderator for the Hair Transplant Network, the Hair Loss Learning Center, the Hair Loss Q&A Blog, and the Hair Restoration Forum
Follow our community on Twitter
Watch hair transplant videos on YouTube
Technorati Tags: hair loss sufferers, hair transplant surgery, hair restoration, Follicular Unit Transplantation, FUT, Follicular Unit Extraction, FUE, hair transplant procedure, International Society of Hair Restoration Surgery, ISHRS, Distinguished Assistant Award