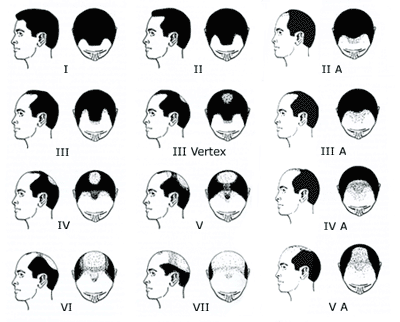 The standard scale to assess how advanced a man's hair loss is defined by the Hamilton/Norwood Scale. The higher the number, the more advanced the loss.
The rate at which guys lose hair is very independent. There are guys that lose very rapidly in their 20's up to a NW3 or NW4 and stay at that point for the rest of their lives. Other guys can have no detectable amount of hair loss until they are in their 50's, only to advance to a NW6 or NW7 in just a few short years. Typically, if the individual begins to thin early in life there is a very good chance that he is destined for a great deal of hair loss.
One very important indicator that most men can study to possibly help determine how far their hair loss will advance is their family history. Look at any older males in your family. The notion that the balding gene comes from just your mother's side is an old wives' tale. Look at both sides: your father, brothers, grandfathers, uncles, etc.
This is in no way an accurate indicator of how you will progress, however. For example, my father is in his early 60's and is maybe a NW1. I seriously doubt he has lost even that much. My older brother, on the other hand, was a NW6 by the time he was 31. Our grandfather lost his hair very quickly as well. You can only use your family history as a guide. Put it this way, if at least some people in your family have a good degree of hair loss and you are noticing signs at a young age then you may want to prepare yourself for more.
Next: Avodart (Dutasteride) Dosing Charts
-Robert
Editor of the Hair Loss Q & A Blog.