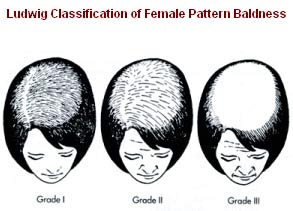 Many people think of balding as strictly a male affliction. However, the estimated 30 million balding women in the United States comprise roughly 40% of American hair loss sufferers. This female segment of the balding population is increasingly seeking answers and treatments for the multitude of conditions leading to female hair loss.
The main culprit behind female balding is genetics. In fact, 96% of all female balding is due to androgenetic alopecia. Unlike male pattern baldness which can manifest itself in any number of patterns, female pattern baldness is often diffuse in nature (occurring over the entire area of the scalp) as represented by the Ludwig Scale.
Aside from genetic balding, non-genetic factors such as pregnancy, crash dieting, traumatic stress, low iron levels, medical conditions, etc. can lead to a condition known as telogen effluvium. This condition includes the rapid shedding of healthy hair when the body senses that it needs to divert its energies elsewhere.   Telogen effluvium is often reversible after successfully treating the stressor causing the condition. However, just as it typically takes three to four months for the hair to shed, it may take three to four months for the hair to regrow after successful treatment.
Other factors influencing female hair loss are menopause, medications such as birth control pills, trauma and illness. Trauma may arise from burns, scarring or traction alopecia. This condition arises when damage is done to the hair follicle by continual pulling and tight tension for very long periods and is common among women who wear tightly braided hairstyles or weaves. In fact, photographs recently emerged on the Internet indicating that supermodel Naomi Campbell may be a victim of traction alopecia. There is no medical treatment for this condition. However, if diagnosed early, traction alopecia is reversible.
Currently there is only one FDA approved, medical treatment for female hair loss, Rogaine (2% minoxidil). In clinical tests conducted by dermatologists, 59% of women using Rogaine 2% topical solution reported hair regrowth. However, women with diffuse hair loss may also benefit from using concealers such as Toppik or DermMatch, or even considering today's hair replacement systems..
Some female patients with a more distinct pattern of hair loss may wish to explore surgical hair restoration as an option. Below, you'll find examples of surgical hair restoration on female patients. These examples were recently posted by leading hair transplant physicians on our popular hair loss discussion forum.
Dr. Mohebi– 1609 Total FUT grafts on Female Hair Thinning Patient–11 Months Elapsed
Dr. Richard Keller-Chicago/Female patient 12 month post-op
Dr. DORIN – Female FUT -Traction Alopecia – 4 Months
Dr. Beehner: Female; 1730 FU single session
Dr. Brad Limmer, MD "the week I had the five female transplant cases"
Before considering any surgical or non-surgical solutions for thinning hair, we strongly recommend that females in particular consult a dermatologist, trichologist or hair restoration physician to diagnose your specific hair loss condition.
If you or someone you love is suffering from female pattern baldness, visit our discussion forum and patient websites for more information about how women are taking control of their hair loss.
—-
David – aka TakingThePlunge
Assistant Publisher and Forum Co-Moderator for the Hair Transplant Network, the Hair Loss Learning Center, the Hair Loss Q&A Blog, and the Hair Restoration Forum
Get Proven Hair Loss Treatments at the Best Prices by visiting our new Online Hair Loss Product Store
Technorati Tags: balding, hair loss, androgenetic alopecia, male pattern baldness, female pattern baldness, telogen effluvium, traction alopecia, Rogaine, minoxidil, hair regrowth, Toppik, DermMatch, hair replacement systems, hair restoration, hair transplant, thinning hair