This question comes from a member of our hair loss social community and discussion forum: 
I'm a female with a high, abnormally shaped hairline. My hairline looks more like a man's suffering from androgenic alopecia than it does a normal female hairline. I'm not suffering from hair loss, but I do want to fix my hairline with surgery. What surgical options are available for a female with a high, abnormally shaped hairline?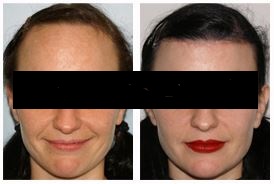 Women seeking surgical hairline restoration or reconstruction have two options:
The first is traditional hair transplant surgery. Hair transplantation, both via the follicular unit strip surgery (FUSS) and follicular unit extraction (FUE) method, is usually a good option for female hairline reconstruction. Female patients with high or abnormal hairlines generally do not suffer from diffuse female pattern hair loss and, therefore, possess a healthy supply of available donor grafts. These grafts can safely be used to rebuild the traditional low female hairline.
The second option is surgical hairline lowering. Female hairline lowering involves removing a strip of skin between the hairline and the forehead, physically moving the hairline to a lower position, and suturing it into place. Although this procedure is generally more invasive, the results are drastic. Those interested may want to consult with recommended hair transplant surgeon Dr. Sheldon Kabaker, who specializes in hairline lowering.
______________
Blake – aka Future_HT_Doc
Editorial Assistant and Forum Co-Moderator for the Hair Transplant Network, the Hair Loss Learning
Center, the Hair Loss Q&A Blog, and the Hair Restoration Forum
Follow our community on Twitter
Watch hair transplant videos on YouTube
Technorati Tags: hair loss, androgenic alopecia, hair transplant, Hair transplantation, follicular unit strip surgery, FUSS, FUE, female pattern hair loss, hairline lowering, Female hairline lowering, hair transplant surgeon