This question, from a member of our hair loss social community and discussion forums, was answered by Coalition hair transplant surgeon Dr. Glenn Charles:
I never hear anyone talking about after follicular unit hair transplant (FUT) surgery and the staples come out that there is a definite risk in stretching your scar by sleeping on it. Is this a valid concern?

I'm 5 weeks post op and people here say "don't turn you head this or that way", but I definitely feel pressure on my scar and the skin around it when I rest my head on my pillow when I'm on my back and even on my side. Wouldn't it be a bigger concern to worry about hours of pressure on a wound from the weight of your head than head movement during the day? And, yes I've tried travel pillows but that even causes some tugging from your neck.

Am I just being paranoid or can the skin pressure from laying your head down cause a problem? Thanks.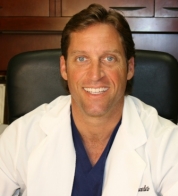 The biggest concern with head and neck movement in the first several months following a hair restoration procedure is excessive flexion of the neck. I always remind my patients to avoid chin to chest movement. I am not saying that the patient cannot look down towards the feet; I just recommend not testing the area on purpose by really trying to see how far they can flex the neck forward without having pain.
Even after the sutures or staples come out there is a few more months where certain movements and stress on the donor area can negatively affect the scar. Sleeping on the donor area/scar in itself should not harm anything.
Dr. Glenn Charles
—-
David (TakingThePlunge)
Editorial Assistant and Forum Co-Moderator for the Hair Transplant Network, the Coalition Hair Loss Learning Center, and the Hair Loss Q & A Blog.
To share ideas with other hair loss sufferers visit the hair loss forum and social community
Get Proven Treatments at the Best Prices by visiting our new online hair loss treatment shop.
Watch hair transplant videos on YouTube
Technorati Tags: hair loss, follicular unit, hair transplant, FUT, hair restoration