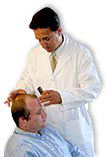 Hair transplant surgery is a very important and personal decision in a hair loss sufferer's life. While some hair transplant patients feel comfortable telling friends, family, and significant others about their hair restoration experiences, others prefer to keep this issue private.
Although modern hair transplantation is becoming very popular and accepted in today's society, a significant number of patients and individuals researching the procedure remain uncertain about sharing details with friends and family. While the decision is very personal and variable, discussing hair surgery with loved ones is still a highly debated topic within the hair loss community.
Recently, one patient started a new topic on our hair loss forum to ask whether he should tell family about his upcoming surgery. In the thread, forum members discuss whether or not to share the details of their procedure with friends and family or not.  Those with previous experience also offer tips on sharing their decision to undergo hair transplantation with their loved ones.
What is your opinion? You are encouraged to share your experiences and opinions on the following topic: Should I Tell Friends and Family that I Underwent Hair Transplant Surgery?
__________
Blake Bloxham – formerly "Future_HT_Doc"
Editorial Assistant and Forum Co-Moderator for the Hair Transplant Network, the Hair Loss Learning
Center, the Hair Loss Q&A Blog, and the Hair Restoration Forum
Follow our community on Twitter
Watch hair transplant videos on YouTube
Technorati Tags: Hair transplant surgery, hair loss, hair transplant, hair restoration, hair transplantation, hair surgery, hair loss forum