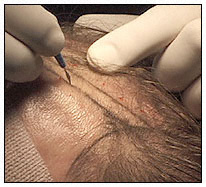 In a recent hair restoration discussion thread, the question of using lateral versus sagittal (vertical) slit technique in hair transplant surgery was discussed. Slits simply refer to the incisions made in the balding scalp by the hair transplant surgeon. These sites are the future recipients of the transplanted follicular unit grafts, and can be made in two opposing directions: lateral (running horizontally, or from "ear-to-ear") or sagittal (running vertically). Although both methods are technically acceptable, hair restoration physicians utilize different incision styles and many actually use a combination of both types in different parts of the scalp.
Recommended hair transplant surgeon Dr. Parsa Mohebi, for example, states he uses saggital incisions in the hairline and only implants singular follicular unit grafts into these recipient sites. Dr. Mohebi explains that these types of incisions minimize trauma to small dermal blood vessels in the front of the scalp; he utilizes lateral incisions in the remainder of the scalp to increase the appearance of density. Many other hair restoration physicians utilize a similar model and agree that saggital incisions are useful in the hairline, but lateral incisions should be used throughout the rest of the transplanted scalp. Other surgeons utilize lateral incisions over the entirety of the balding scalp and believe it creates greater density.
Since differing, acceptable methods exist, incision sites is a topic that breeds healthy debate in the hair restoration community, and the hair restoration discussion topic does lateral slit technique provide better yield than saggital slit techinque? is proof of its relevancy. Do you have opinions on whether lateral or saggital slit technique results in less trauma, greater density, or improved yields? If so, please visit the discussion topic and share your thoughts!
_______________
Blake – aka Future_HT_Doc
Editorial Assistant and Forum Co-Moderator for the Hair Transplant Network, the Hair Loss Learning Center, the Hair Loss Q&A Blog, and the Hair Restoration Forum
Follow our community on Twitter
Watch hair transplant videos on YouTube
Get Proven Hair Loss Treatments at the Best Prices by visiting our new Online Hair Loss Product Store
Technorati Tags: hair restoration, lateral, sagittal, hair transplant, balding, hair transplant surgeon, follicular unit grafts, hair restoration physicians, saggital incisions, singular follicular unit grafts, lateral incisions, transplanted scalp, balding scalp, lateral slit technique, saggital slit techinque