In an ongoing thread on the Hair Restoration Forums, community members are discussing miniaturization analysis and if it should be performed before a hair transplant procedure. Miniaturization analysis is the process where hair restoration physicians carefully inspect a hair loss patient's donor region (with a magnification device) and determine whether or not miniaturization is occurring in the harvesting zone.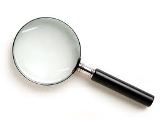 During the balding process, hairs miniaturize or grow thinner at each expansion (or anagen) phase of the follicular growth cycle. Because of this, hair transplant surgeons must ensure they are not harvesting and implanting follicular units that are miniaturizing and susceptible to future loss.  Granted, miniaturization can occur in any scalp hair, but donor hair analysis is extremely important in a successful hair restoration procedure.
In the discussion topic, two hair loss experts (Louise – a hair transplant technician and consultant for Coalition surgeon Dr. Cam Simmons and Coalition surgeon Dr. Glenn Charles) share their opinion of miniaturization analysis and it's importance before a hair transplant procedure:
When inspecting/assessing your hair's characteristics, physicians will look for miniaturized hairs in the recipient and donor regions. If the donor hair is miniaturizing, it will not last and should not be transplanted. Some clinics use magnifying loops or a Densitometer or a close-up camera. Dr Simmons inspects everyone's scalp personally with magnifying loops and/or a Microvid camera. The Microvid camera is a hand-held device that can be moved around one's scalp and the physician and patient can see the image on a computer monitor. The follicular groups can be easily seen as well as any miniaturization. If the hair is long enough to hide it, tiny patches can be trimmed to get a very close look at the donor hair.
Louise
Patients should be evaluated for miniturized hairs and DUPA ( Diffuse Unpatterened Alopecia ). These situations can make patients poor candidates for hair transplantation. Many physicians address these issues while evaluating the patient.
Glenn M. Charles, D.O.
Clearly, analyzing the level of miniaturization in the donor (and in many cases the recipient) region before performing medical hair restoration is an important step in creating a lasting transformation.
_______________
Blake – aka Future_HT_Doc
Editorial Assistant and Forum Co-Moderator for the Hair Transplant Network, the Hair Loss Learning Center, the Hair Loss Q&A Blog, and the Hair Restoration Forum
Follow our community on Twitter
Watch hair transplant videos on YouTube
Technorati Tags: Hair Restoration, miniaturization analysis, hair transplant, hair restoration physicians, hair loss, balding, follicular growth cycle, hair transplant surgeon, follicular units, hair restoration procedure, hair transplant procedure, miniaturized hairs, DUPA, Diffuse Unpatterened Alopecia, medical hair restoration