This question was asked by a member of our Hair Restoration Social Community and Discussion Forums:
After a recent hair transplant procedure, I noticed the hairline created by my hair restoration physician was slightly irregular or "jagged." After reviewing cases on the discussion forums, I noticed that most surgeons design hairlines this way. This made me wonder, should hairlines created during hair transplant surgery be perfectly symmetrical or slightly asymmetrical and irregular?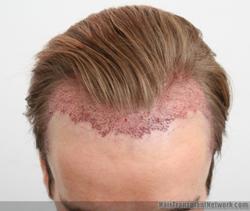 Although each hair transplant patient's case is unique, surgeons generally do their best to recreate naturally occurring hairlines. Despite the fact that the "jagged" appearance seen in most post-operative pictures may look a bit odd, it actually mimics the way natural, non-balding hairlines grow. In many cases, transplanted hairlines that are perfectly symmetrical or straight create an unnatural appearance because, although it looks neat and aesthetically pleasing post-operatively, this is not the way hairlines naturally grow.  For example, here is what Coalition hair transplant surgeon Dr. Glenn Charles had to say regarding irregular versus symmetrical hairlines:
Since most hairlines in real life are not perfectly symmetrical or straight, there should be some degreee of randomness in any transplanted hairline. The term I use to describe this to patients is a regular irregularity. This means that the hairline will have a slightly staggerred/irregular pattern, but there is a method to the madness in how it was created.
Additionally,  make sure any concerns regarding the irregularity of the transplanted hairline are discussed with your hair restoration surgeon during a detailed consultation.
_______________
Blake – aka Future_HT_Doc
Editorial Assistant and Forum Co-Moderator for the Hair Transplant Network, the Hair Loss Learning Center, the Hair Loss Q&A Blog, and the Hair Restoration Forum
Follow our community on Twitter
Watch hair transplant videos on YouTube
Get Proven Hair Loss Treatments at the Best Prices by visiting our new Online Hair Loss Product Store
Technorati Tags: Hair Restoration, hair transplant, hair restoration physician, hair transplant patient, hair transplant surgeon, hair restoration surgeon