I have had two hair transplants in 3 years. I always ask my hair transplant doctor about my hair loss. Actually, whenever I wash my hair I always see lots of hair (more than 50 or 60) or when I scratch my hair it always breaks. So is it normal or do I need to use any product to stop hair loss? My doctor tells me that this is normal. If this is normal then why does my hair break whenever I scratch my head? Could you please tell me what to do? Do I need to go to a dermatologist or am I fine?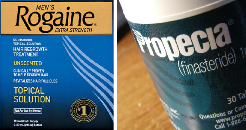 It's normal to lose approximately 100 hairs throughout the day. Losing 50 to 60 hairs in the shower does seem excessive.
For most men with androgenic alopecia, hair loss is progressive. Hair transplant surgery can address a patient's current degree of balding but, in most cases, the thinning hair will continue to progress. For this reason, most hair restoration physicians recommend that their patients medically stabilize hair loss with Propecia (finasteride) and Rogaine (minoxidil).
I recommend consulting with a dermatologist or recommended hair restoration physician in your area for more information on these medical hair loss treatments.
—-
David
Editorial Assistant and Forum Co-Moderator for the Hair Transplant Network, the Coalition Hair Loss Learning Center, and the Hair Loss Q & A Blog.
To share ideas with other hair loss sufferers visit the hair loss forum and social community.
Technorati Tags: hair transplants, hair loss, androgenic alopecia, Hair transplant, balding, thinning hair, hair restoration, Propecia, finasteride, Rogaine, minoxidil