This question comes from a member of our Hair Restoration Social Community and Discussion Forums:
Six years ago I underwent a follicular unit transplantation (FUT) procedure which resulted in a stretched scar. I'm now investigating a scar repair operation and wondering what type of closure should be used on the new incision? Is a trichophytic closure ideal, or should I investigate other methods? What type of surgeon should I see?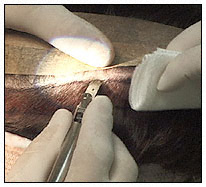 First, I wanted to state that you should definitely share these questions and concerns with the consulting physician. He or she will be able to properly analyze the situation and recommend an efficient type of hair transplant scar revision
Having said that,  state-of-the-art hair transplant surgeons use the trichophythic closure technique for a reason: it minimizes scarring in the donor area. If other techniques worked more efficiently, these would probably be used instead. However, the idea behind the trichophytic closure is that it allows hairs to grow through the closure and better camouflage the scar. Because of this, I would assume that revising the original scar with a trichophytic closure is optimal.
Additionally, seeing a qualified hair transplant surgeon who performs follicular unit transplantation (FUT) procedures and scar revision procedures frequently would probably yield the best results.
_______________
Blake – aka Future_HT_Doc
Editorial Assistant and Forum Co-Moderator for the Hair Transplant Network, the Hair Loss Learning Center, the Hair Loss Q&A Blog, and the Hair Restoration Forum
Follow our community on Twitter
Watch hair transplant videos on YouTube
Technorati Tags: Hair Restoration, follicular unit transplantation, FUT, scar repair, trichophytic closure, hair transplant scar revision, donor area, hair transplant surgeon, scar revision procedure