This question comes from a member of our hair loss social community and discussion forums: 
I'm undergoing Follicular Unit Strip Surgery (FUSS) and my hair transplant physician claims he will close the strip extraction wound with staples instead of sutures. Should I ask that he use sutures instead of staples? Which one is better?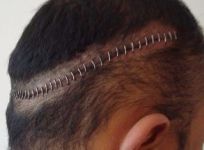 The whole "suture versus staple" debate really boils down to physician preference. Some doctors believe sutures provide better closure and reduce the chances of scar stretching. Other hair restoration physicians like using staples in the scalp, and believe this creates the best post-operative scar. Most experienced doctors have likely experimented with both and came to their own conclusions.
In the hands of an expert, it is probably best to go with the method they use most frequently and consistently.
_____________
Blake Bloxham – formerly "Future_HT_Doc"
Editorial Assistant and Forum Co-Moderator for the Hair Transplant Network, the Hair Loss Learning
Center, the Hair Loss Q&A Blog, and the Hair Restoration Forum
Follow our community on Twitter
Watch hair transplant videos on YouTube
Technorati Tags: hair loss, Follicular Unit Strip Surgery, FUSS, hair transplant, hair restoration