This question comes from a member of our hair loss social community and discussion forums: 
Several months ago, I underwent a Follicular Unit Extraction (FUE) hair transplant procedure. My donor area now looks "thinner" and "patchy" in some areas where grafts were extracted. Is this shock loss? Can FUE cause shock loss?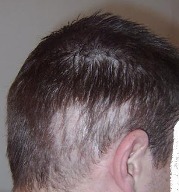 Extraction in the donor region – both via the strip technique (Follicular Unit Strip Surgery) and FUE – can cause shock loss. Shock loss in the donor region is almost always temporary. The hair follicles in this region are highly resilient and should grow back within 3-4 months after the shock loss occurs. This is different than shock loss in the recipient region, where weakened native follicles may shed permanently after a hair transplant procedure.
The thinning appearance in the donor region could be temporary shock loss. However, this isn't the only plausible explanation. In some instances, donor regions can be "over harvested" during an FUE procedure. This means too many grafts are extracted from a small area of donor scalp. This can create a "moth eaten" appearance that may resemble shock loss – though shock loss is normally more severe and obvious.
Either way, discussing the situation with your hair transplant surgeon will clarify if you are suffering from shock loss after the FUE procedure and how you should proceed.
_____________
Blake Bloxham – formerly "Future_HT_Doc"
Editorial Assistant and Forum Co-Moderator for the Hair Transplant Network, the Hair Loss Learning
Center, the Hair Loss Q&A Blog, and the Hair Restoration Forum
Follow our community on Twitter
Watch hair transplant videos on YouTube
Technorati Tags: hair loss, Follicular Unit Extraction, FUE, hair transplant, shock loss, strip technique, Follicular Unit Strip Surgery, hair transplant surgeon