I am 20 years old and have been using 5% minoxidil for 8 months. I haven't seen much hair growth but now I want to add finasteride to my regimen as well. Will my hair that's grown by minoxidil shed when I start finasteride?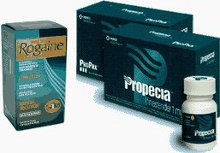 Adding finasteride to your hair loss regimen is a very good idea. When used in combination, Propecia (finasteride) and Rogaine (minoxidil) form what is considered the most effective hair loss treatment for androgenic alopecia currently available.
As these two drugs work very differently, adding finasteride to your regimen will likely begin a new phase of shedding but will not necessarily affect any hair growth from the use of minoxidil. Any shedding you see should be temporary and you should see improvement beginning between 4 and 6 months after starting.
—-
David (TakingThePlunge)
Editorial Assistant and Forum Co-Moderator for the Hair Transplant Network, the Coalition Hair Loss Learning Center, and the Hair Loss Q & A Blog.
To share ideas with other hair loss sufferers visit the hair loss forum and social community
Technorati Tags: minoxidil, hair growth, finasteride, hair loss, Propecia, Rogaine, hair loss treatment, androgenic alopecia