The following response to a question from the Hair Restoration Social Community and Discussion Forums, was written by forum member "Gillenator".
I have Norwood Scale 6 hair loss may become a 7. I used to think I wouldn't loose that much more hair, but now I realize that I will most certainly loose more, maybe a lot more than I think.

One thing I've wished for is to just accept the baldness, shave it all off and live my life. I've tried it but it became the start of 10 years with stress, anxiety and major depression. I know it's all in my mind, I wish that I could face it better but I can't.

I'm wondering how using a hair restoration system affects the hairs that are under and close to the system. I use glue, and the scalp is getting pretty dry.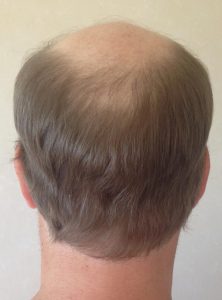 I know exactly what you are experiencing as I wore a full hair system for 11 years and hated it. Had my first hair transplant in 1996 in the frontal core and finally pitched my systems. To date I had roughly 6900 grafts in four separate hair restoration procedures.
So here's the deal. in my opinion, you have a lot of potential to restore your frontal third zone with a nice hairline and then transitioning the level of density as you reach the mid-scalp. I also agree that you leave the crown alone for now. You don't have to go above say 60 square centimeters in the frontal core to get a nice result. It won't be superb density but enough to attain nice coverage.
You will definitely need more than 3,000 grafts for a surface area of 100 square centimeters. So I do not recommend that you do all of that area to start with. In my opinion, the bottom line issue for you is donor reserve management. Just in case low dose finasteride does not work long term for you, and you continue to progress to class 7, you will need a well to draw from for further recessionary loss in the lateral humps and other areas.
We have no idea what your donor density is but my guess is that it is average. Your hair caliber appears medium at best. But you obviously have 3500-4000 grafts to start with hands down!
And I also see some retro-grade alopecia going on but your donor appears to have enough grafts to make a significant cosmetic improvement. Your occipital zone appears stable but remember, that's based on photos and not a microscopic exam. You definitely want that done beforehand.
You can start with a 3,000 to say 3500 graft session, wait a year and see how you like it. You never know, you may be a happy camper because you know your limitations and your goals are realistic.
So why not go for it?
Gillenator
Supporting Hair Restoration Physicians: Dr. Glenn Charles, Boca Raton, FL – Dr. Jerry Cooley, Charlotte, NC – Dr. Jim Harris, Denver, CO – Dr. Robert True & Dr. Robert Dorin, New York, NY
—-
David
Editorial Assistant and Forum Co-Moderator for the Hair Transplant Network, the Coalition Hair Loss Learning Center, and the Hair Loss Q & A Blog.
To share ideas with other hair loss sufferers visit the hair loss forum and social community.
Technorati Tags: Norwood Scale, hair loss, baldness, hair restoration system, hair system, hair transplant, hair restoration, finasteride