Breaking news: In the latest issue of Science Translational Medicine, a team of Dermatologists from Johns Hopkins and Penn University published a study potentially linking a new lipid (fatty acid) compound to androgenic alopecia (genetic hair loss).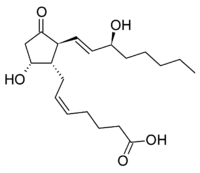 While researching genetic baldness, the team discovered highly elevated levels of Prostaglandin D2 (PDG2) in the scalps of hair loss sufferers and decided to investigate further. The research team understood the role of dihydrotestosterone or DHT in causing and exacerbating hair loss, but now believes that Prostaglandin D2 or PGD2  might "carry out" the final steps associated with androgenic alopecia or somehow inhibit new hair growth in the presence of DHT.
To further test this theory, the team evaluated the scalps of 22 balding subjects (male; aged 40 – 65) and, again, found elevated levels of both the enzyme responsible for synthesizing PDG2 and Prostaglandin D2 itself. Researchers then turned to a mouse model and by adding both Prostaglandin D2 and its G Protein Coupled receptor (GPR44), they were able to successfully induce androgenic alopecia (AGA) in the mouse.
Following this experiment, the team concluded that Prostaglandin D2 may be an inhibitor of hair growth in men and women with genetic baldness and identified the GPR44 receptor as a target for a non-invasive hair loss treatment. Although this news is very exciting and looks promising for the development of future treatments, we still recommend utilizing proven hair loss treatments (like Propecia/finasteride and Rogaine/minoxidil) while further evidence is found and investigated.
For more information, view our Hub Pages article: Hair Loss Cure? Recent Discovery of PGD2 (Prostaglandin D2) Brings Hope For Ending Hair Loss.
___________________
Blake Bloxham – formerly "Future_HT_Doc"
Editorial Assistant and Forum Co-Moderator for the Hair Transplant Network, the Hair Loss Learning Center, the Hair Loss Q&A Blog, and the Hair Restoration Forum
Follow our community on Twitter
Watch hair transplant videos on YouTube
Technorati Tags: androgenic alopecia, hair loss, genetic baldness, Prostaglandin D2, PDG2, dihydrotestosterone, DHT, hair growth, balding, GPR44, AGA, hair loss treatment, Propecia, finasteride, Rogaine, minoxidil