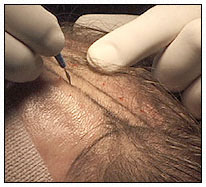 It's no secret that hair transplant surgery is a complex procedure requiring the skills of an experienced physician and the clockwork precision of a highly trained staff. Within the realm of surgical hair restoration, there lie many lingering debates regarding technique; FUE vs. FUT, sutures vs. staples, shaving the head vs. not shaving, just to name a few. But, perhaps one of the most misunderstood of these techniques is the method used to make the incisions for placing the follicular unit grafts.
The two most common slit-making techniques are parallel (sagital) and perpendicular (lateral/coronal).   By definition, sagital incisions run parallel (vertical) alongside and in-between existing hairs while the lateral incisions bisect existing hairs perpendicular (horizontal) like a T.   Learn more about parallel versus perpendicular incisions by visiting "Hair Transplant Photos – Parallel (Sagital) versus Perpendicular (Lateral/Coronal) Incisions".
But, what does that mean to the prospective hair transplant patient? Is one technique always better than the other? Are both techniques ever used in the same procedure?
For the answers to these questions, visit the discussion topic, Does the Lateral Slit Technique Provide Better Yield than Sagital Technique?, started by Hair Loss Forum member "j1j9j85". You are encouraged to provide your input to this important topic.
—-
David – aka TakingThePlunge
Assistant Publisher and Forum Co-Moderator for the Hair Transplant Network, the Hair Loss Learning Center, the Hair Loss Q&A Blog, and the Hair Restoration Forum
Get Proven Hair Loss Treatments at the Best Prices by visiting our new Online Hair Loss Product Store
Technorati Tags: hair transplant, hair restoration, FUE, FUT, follicular unit grafts, sagital, hair transplant patient, Hair Loss Forum, Hair Loss