Does the new Rogaine foam for hair loss make your hair look greasy?  I used it before on my balding crown and it made my hair very sticky, heavy, sticky. Why use if my hair will look bad?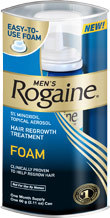 Rogaine  in the form of a foam is a relatively new way to apply minoxidil, and is one of the two FDA approved hair loss drugs  for male pattern hair loss.   The positives in my opinion, is that it is less irritating on the scalp due to the lack of the ingredient Propylene Glycol which is found in Rogaine liquid.   It is also seemingly easier to apply to the balding scalp.  
Speaking to many hair loss  sufferers, I have found that most balding men and women prefer Rogaine foam  over Rogaine liquid.   Having used Rogaine 5% liquid in the past, I have personally found that it left my head greasy, sticky, and hard to style my hair.   Though I have not used Rogaine (minoxidil) foam, I haven't heard any discussion about sticky or greasy hair until now.  
Rogaine's primary purpose is to help hair loss  sufferers potentially regrow hair.   If you feel that Rogaine foam  is making your hair sticky and greasy, you will have to determine if continual use is worth it for you.  
Bill
Associate Publisher of the Hair Transplant Network and the Hair Loss Learning Center
View my Hair Loss Weblog
Technorati Tags: Rogaine foam, hair loss, balding, Propylene Glycol, Rogaine, Rogaine 5%, minoxidil