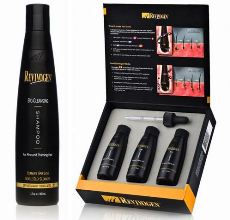 For many balding men and women, a trip to the hair salon is a negative experience. Often times, hair cutting and styling sessions reveal the true nature of one's progressive hair loss, and this can leave individuals feeling anxious and concerned. When this occurs, patrons often ask hair stylists for advice regarding the types of preventive hair loss treatments to consider. Unfortunately, hair stylists often do not have familiar products in the salon to recommend to these concerned consumers. However, this is about to change because Revivogen recently announced that its line of hair loss shampoos, conditioners, and scalp therapy treatments are now available in hair salons.
Revivogen is also available at discounted prices via our hair loss product store.
Revivogen is a line of topical treatments designed to lower the levels of DHT (Dihydrotestosterone) – the hair loss causing hormone – in the scalp. Revivogen's Scalp Treatment Therapy, Bio-Cleansing shampoo, and Thickening Conditioner contain several ingredients, including Saw Palmetto and GLA/ALA fatty acids, which block the production of DHT in the scalp. Much like finasteride (Propecia), the key ingredients in Revivogen products inhibit the 5-alpha-reductase enzyme responsible for converting testosterone to the hair follicle-damaging DHT. By lowering these levels, Revivogen may help halt progressive thinning and maintain current hair levels.
Although Revivogen combats hair loss in a manner similar to finasteride, the Saw Palmetto and GLA/ALA fatty acids have not been tested and certified by the US Food and Drug Administration. Because of this, it is usually recommended that individuals utilize Revivogen products in conjunction with proven hair loss medications like minoxidil (Rogaine) and finasteride (Propecia). However, having these products available in hair salons is a great opportunity, and will hopefully help individuals become more open and proactive about their hair loss.
Congratulations to Revivogen for offering these products at hair salons!
You can also purchase all 3 Revivogen therapies at a substantial discount by visiting our online hair loss treatment shop.
________
Blake – aka Future_HT_Doc
Editorial Assistant and Forum Co-Moderator for the Hair Transplant Network, the Hair Loss Learning
Center, the Hair Loss Q&A Blog, and the Hair Restoration Forum
Follow our community on Twitter
Watch hair transplant videos on YouTube
Technorati Tags: balding, hair loss, Revivogen, DHT, Dihydrotestosterone, Scalp Treatment Therapy, Bio-Cleansing shampoo, Thickening Conditioner, Saw Palmetto, finasteride, Propecia, hair loss medications, minoxidil, Rogaine