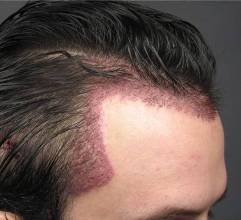 One area frequently affected by male pattern baldness (androgenic alopecia) is the "temple points" or "temple triangles" region. The temporal points – the triangular region of hair located above and in front of the ears – may be commonly affected by hair loss, but opinions differ on whether this region should be addressed with hair transplant surgery.
Most patients balding in the temporal triangles also suffer from hair loss in the hairline, frontal scalp, and mid-scalp regions. Because follicular unit grafts are limited, many question whether these grafts should be allocated to the temporal regions, or whether it's better to create a more comprehensive result by using all available grafts in other scalp regions. This leads many patients with scalp and temple recession to ask whether they should utilize precious grafts to restore the temples during hair restoration surgery?
Altogether, the decision to restore temple points during hair transplant surgery boils down to physician preference and the patient's goals. In many instances, temple restoration helps frame a patient's face and allows for a comprehensive post-operative appearance. Some hair transplant surgeons subscribe to this philosophy, and frequently restore temple hair during surgery. However, other surgeons believe patients are best served by allocating all available grafts to the more predominant scalp regions. Of course, if patients have an adequate amount of grafts for both, this becomes less of an issue.
However, patients should discuss temple restoration preference and hair restoration goals during consultations, and create a hair transplant plan with their physician. By creating a unified plan, patients are able to proceed confidently with surgery and hopefully meet their expectations.
______________
Blake Bloxham – formerly "Future_HT_Doc"
Editorial Assistant and Forum Co-Moderator for the Hair Transplant Network, the Hair Loss Learning
Center, the Hair Loss Q&A Blog, and the Hair Restoration Forum
Follow our community on Twitter
Watch hair transplant videos on YouTube
Technorati Tags: male pattern baldness, androgenic alopecia, temple points, temple triangles, hair loss, hair transplant surgery, balding, follicular unit grafts, hair restoration surgery, hair transplant, hair transplant surgeons, hair restoration