The following thorough response to a question from the Hair Restoration Social Community and Discussion Forums, was written by forum member "Gillenator".
My beard line dips down a bit on one side and I'm considering hair transplant surgery to fix it. I probably only need about 100 grafts. I'm worried about scarring on my face with the transplant since I don't always have my beard grown out. Will I see any sort of scar or mark where the follicle was transplanted? I assume that between the two methods of extraction FUT vs FUE, it will make no difference for what I'm trying to accomplish in terms of end result?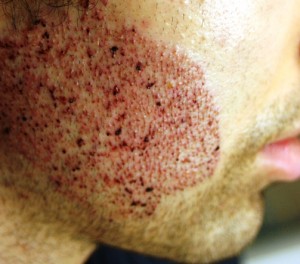 I think the method of extraction does make a difference in a small case such as yours. Since the recipient area you want filled in is relatively small, requiring the 100 grafts you mentioned, you may want to consider follicular unit extraction (FUE) versus follicular unit transplantation (FUT) to harvest the grafts you will need. Providing you have thick facial growth, you may also want to consider having the donor extracted from under your chin for several reasons.
First, the recipient area will potentially look the most natural grown out if the donor grafts also come from the face. It's the same hair. A smaller punch (.50mm) would potentially be used so there should not be much visibility of scarring under your chin after the extractions completely heal.
Second, you may not want a small strip scar in the back of your head to get the grafts you need for your face. Should you ever want to shave your scalp one day, it may be worth taking the 100 grafts from your facial area by FUE as I previously mentioned.
Now, if you should experience male pattern balding and think you one day might need coverage on top of your scalp, you might want to wait and have everything done together. You may also want to discuss your situation with several hair restoration physicians who are talented in both strip and FUE and who also may have done some facial restoration.
-Gillenator
For an example of a beard restoration procedure via the strip (FUT) method, view the thread,   Dr. Rahal / Beard Transplant / 1902 Grafts from our Hair Restoration Forum and Social Network.
—-
David – aka TakingThePlunge
Assistant Publisher and Forum Co-Moderator for the Hair Transplant Network, the Hair Loss Learning Center, the Hair Loss Q&A Blog, and the Hair Restoration Forum
Get Proven Hair Loss Treatments at the Best Prices by visiting our new Online Hair Loss Product Store
Technorati Tags: hair transplant, follicular unit extraction, FUE, follicular unit transplantation, FUT, balding, hair restoration, Hair Loss