Hair restoration surgeon Dr. Michael Beehner is recommended by the Hair Transplant Network. To view this discussion and other hair loss topics, visit our Hair Loss Social Community and Discussion Forums,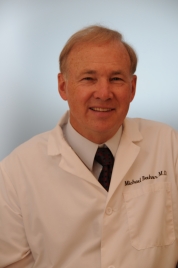 The male patient pictured below was 39 years old when he presented to our clinic in 2002 having had two previous large hair transplant sessions at another clinic. He noted to us at that time that he thought his donor scar was wider than he liked.
He then proceeded to have three hair transplants with us to finish up and give him the density he desired on top. Each time we were able to excise a small amount of the donor strip width along with harvesting a strip of hair for a total of 3500 new grafts. We gave him 80% follicular units and 20% double follicular units. At that point, he wanted us to do what we could to eliminate or lessen the visible impact of the scar as much as possible, especially on the right corner area.
In 2004 we then proceeded to excise around 5-6mm of the widest part of the scar but it returned to being almost as wide as before due to the elasticity of his scalp. We then, over the next few years, did three follicular unit extraction (FUE) sessions into the scar with 912 grafts (mostly 1 and 2-hair FU's) obtained from 0.9mm sites using the manual SAFE method of Dr. James Harris.
He dropped in the other day for the first time in two years to let us see the result and noted that he had the barber cut his hair unusually short this time. He was quite pleased with the final results. The first photo shows the wide scar area before our treatment of it. The the next two are close-ups of his final result with FUE's.
Click images below to enlarge.
Mike Beehner, M.D.
—-
David (TakingThePlunge) Forum Co-Moderator and Editorial Assistant for the Hair Restoration Forum and Social Network, the Coalition Hair Loss Learning Center, and the Hair Loss Q & A Blog.
Get Proven Hair Loss Treatments at the Best Prices by visiting our new Online Hair Loss Product Store
Technorati Tags: Hair restoration, Hair Transplant Network, hair loss, hair transplant, hair transplants, follicular unit extraction, FUE