This question comes from a member of our Hair Loss Social Community and Discussion Forums:
Unfortunately, my most recent hair transplant surgery did not go according to plan, and I was left with a series of unsightly, small bumps or "cobblestones" in the implanted scalp area. These bumps are causing quite a bit of anxiety, and I'm looking into repair procedures to fix the problem. Because of this, I'm wondering if it would be possible to remove the bumps via follicular unit extraction (FUE) and replace them with transplanted tissue (either containing or not containing hair follicles)?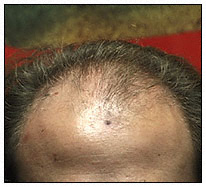 From what I gather,  in order to get rid or your excessive cobblestoning, you want to remove the "cobblestone tissue" via follicular unit extraction (FUE) and implant other (transplanted) tissue either containing or not containing follicles into the area?
Although this sounds interesting, I'm unsure it's the best way to proceed. I definitely understand the idea of removing the cobblestone pattern, but the combination of removing that tissue, removing additional tissue from somewhere else, and then implanting the new tissue into the area seems excessive and has the potential to create unnecessary trauma to the scalp. Additionally, I feel like removing "grafts" (or the cobblestoning pattern in this case) has the potential to create excessive scarring due to the diameter of the graft requiring removal. Furthermore, the blood supply necessary to support all this new tissue could be a problem.
In this instance, I'd (personally) say the best option is a second repair procedure. I think if a hair restoration physician could strategically place enough grafts in the frontal 1/3 of the scalp, you could definitely achieve a greatly enhanced appearance and cover up the cobblestoning. However, I'd wait until the full 12th month mark before investigating a second procedure. Additionally, I have heard of hair restoration experts fixing cobblestoning by removing the unsightly follicular unit grafts, resurfacing the skin, and redefining the hairline with properly placed follicular unit grafts in the past, so this may be a reasonable option as well.
_______________
Blake Bloxham – formerly "Future_HT_Doc"
Editorial Assistant and Forum Co-Moderator for the Hair Transplant Network, the Hair Loss Learning Center, the Hair Loss Q&A Blog, and the Hair Restoration Forum
Follow our community on Twitter
Watch hair transplant videos on YouTube
Get Proven Hair Loss Treatments at the Best Prices by visiting our new Online Hair Loss Product Store
Technorati Tags: Hair Loss, hair transplant surgery, cobblestone, follicular unit extraction, FUE, hair restoration physician, hair restoration experts, follicular unit grafts