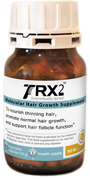 Europe's TRX2 Molecular Hair Loss Treatment promises to halt balding and regrow hair. But, does it really work?
TRX2 is not a drug but rather an herbal, dietary supplement containing a variety of common ingredients readily available at your local nutritional supplement shop; including biotin and L-carnitine tartrate among others. The product's website provides detailed data gathered from a "randomized, double-blind, placebo-controlled study" but it is unclear who conducted the study and there is no mention of publication in a peer reviewed journal. Savvy consumers may see this omission as a red flag.
Generally, there is no harm in trying herbal/natural hair loss treatments. However, the high cost of products like TRX2 may make experimentation less desirable than opting for the clinically proven and FDA approved medical treatments Propecia (finasteride) and Rogaine (minoxidil).
For a complete listing of TRX2's ingredients and our detailed product review see the article, "TRX2 Molecular Hair Loss Treatment from Europe: Revolutionary Hair Growth Formula?" at the Hair Loss Learning Center.
Do you have experience with or questions about TRX2? If so, join the following discussion on our popular hair restoration forum, "TRX2 Molecular Hair Loss Treatment Review".
—-
David (TakingThePlunge)
Editorial Assistant and Forum Co-Moderator for the Hair Transplant Network, the Coalition Hair Loss Learning Center, and the Hair Loss Q & A Blog.
To share ideas with other hair loss sufferers visit the hair loss forum and social community
Get Proven Treatments at the Best Prices by visiting our new online hair loss treatment shop.
Technorati Tags: TRX2, Hair Loss, regrow hair, hair loss treatments, Propecia, finasteride, Rogaine, minoxidil