This question, from a member of our hair loss social community and discussion forums, was answered by Coalition hair transplant surgeon Dr. Glenn Charles:
Although no expert on the subject I feel reasonably qualified to suggest the post-op redness is something very much played down and overlooked in the hair transplant industry. Consider my case: 3 months in still with significant redness and yet research would suggest having dark hair and fairly dark skin I should meet the criteria for redness to be minimal only after a short period.

I have no issues with the way the recipient area is healing. It's clean, moderate pimples and even a little growth which is to be expected after 3 months. However for the for first 6 weeks, a combination of concealer and Nanogen was required each morning and only over the last few weeks I have been able to lose the concealer and just about rely on the hair fibers alone.

I am fortunate that my native hair is quite thick and, after a full 3 weeks of hiding (which wasn't really enough), I have been just about been able to pull it off but, if you have little existing hair to camouflage and secrecy is important, I really just cant see how you expect to get away with it.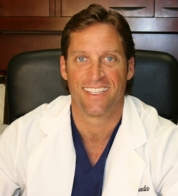 In general, people with more pigmented skin return to normal color faster than fair skinned patients. However, some hair restoration patients just seem to stay red longer than even the doctor expected.
I usually give the potential patient the worst case scenario which is, after complete healing, it looks like you were out in the sun and forgot to put sun block in certain areas. This can last up to an additional month or two.
Dr. Glenn Charles
—-
David (TakingThePlunge)
Editorial Assistant and Forum Co-Moderator for the Hair Transplant Network, the Coalition Hair Loss Learning Center, and the Hair Loss Q & A Blog.
To share ideas with other hair loss sufferers visit the hair loss forumand social community
Get Proven Treatments at the Best Prices by visiting our new online hair loss treatment shop.
Technorati Tags: hair loss, hair transplant, Nanogen, hair restoration