According to the American Society for Aesthetic Plastic Surgery, the facelift, (rhytidectomy), is the sixth most popular elective procedure performed today.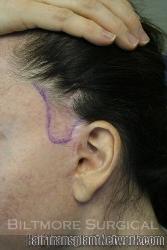 Although the procedure is very common and usually offers significant cosmetic benefit, it is associated with one infrequently discussed side effect: the post-operative loss of "sideburns" and hairline distortion in female patients.  Females who undergo this procedure often consider surgical hair restoration to correct this.
During the facelift procedure, an incision is made in front of the ear (in the temple/sideburn region) and extended into both the hairline region and the area further behind the ear itself. Afterward, the skin is separated from the deeper tissues, tightened, and pulled until taut. Although this maneuver pulls the skin tight and creates a more "youthful" appearance, it also results in an excess of tissue that must be excised.
Unfortunately, because the initial incision is made in the sideburn and hairline area, the last step of the procedure involves the removal of the excess, hair-bearing tissue from this region. In various cases, this results in a total removal of the sideburn hair and an unnatural appearance of the hairline (which can be caused by scarring or a distortion of hairline shape or height).
Fortunately, although this side effect often discourages post-operative facelift patients, the damage can be reversed and reconstructed with modern hair transplant surgery.
Recently, Coalition hair restoration surgeon Dr. Scott Alexander proved this very point, and performed a successful sideburn reconstruction case on a female, post-facelift, patient. During the procedure, Dr. Alexander managed to extract (via Follicular Unit Transplantation (FUT) 2,037 grafts and restore the patient's sideburns (on both sides of the ear) using refined transplantation techniques.
Would you like to review this reconstruction case and learn more? If so, feel free to visit the thread at our Hair Loss Discussion Forums: Dr. Alexander: Female Patient, Sideburn Repair Following Facelift. 
________________
Blake – Future_HT_Doc
Editorial Assistant and Forum Co-Moderator for the Hair Transplant Network, the Hair Loss Learning Center, the Hair Loss Q&A Blog, and the Hair Restoration Forum
Follow our community on Twitter
Watch hair transplant videos on YouTube
Technorati Tags: facelift, rhytidectomy, sideburns, hairline, hair restoration, hair transplant surgery, hair restoration, sideburn reconstruction, Follicular Unit Transplantation, FUT, Hair Loss