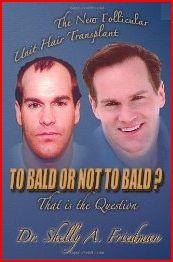 Recommended hair transplant surgeon Dr. Shelly A. Friedman recently released a new book titled To Bald or Not to Bald? That is the Question. Although the book is humorously titled, the content tackles important hair loss issues, such as the difference between male and female genetic balding, effective hair restoration treatments, and obtaining state-of-the-art surgical techniques. As Dr. Friedman explains:
Although it is usually an unwanted sign of aging, hair loss may no longer be inevitable. Hopefully, by the time you finish this book you will understand the proven, effective treatment options that have become so popular. In subsequent chapters you will realize that hair loss is a problem that can be solved with new and exciting methods that will be explained in detail as we move along. We live in a new era of medical innovation and possibilities. Advances in medical research, technology and surgical techniques have restored patient's faith in the field of medical and surgical hair restoration. This books explains the entire process of hair restoration today.
If you would like to get in contact with Dr. Friedman, feel free to visit his recommendation profile at the Hair Transplant Network. Additionally, please visit our online hair loss product shop for information on purchasing your very own copy of To Bald or Not to Bald? That is the Question.
To purchase this book immediately, click here.
_______________
Blake – aka Future_HT_Doc
Editorial Assistant and Forum Co-Moderator for the Hair Transplant Network, the Hair Loss Learning Center, the Hair Loss Q&A Blog, and the Hair Restoration Forum
Follow our community on Twitter
Watch hair transplant videos on YouTube
Get Proven Hair Loss Treatments at the Best Prices by visiting our new Online Hair Loss Product Store
Technorati Tags: hair transplant surgeon, Dr. Shelly A. Friedman, hair loss, genetic balding, hair restoration, Hair Transplant