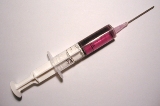 Recently, QR 678, the newest injectable and alleged "cure" for baldness was featured on the front page of the Times of India.   No wonder this potential future hair loss treatment has received so much attention and discussion lately on our hair restoration forum and social community.
Although the hype and excitement surrounding QR 678 is understandable, the publishers of the  Hair Transplant Network strongly recommends that balding men and women remain cautiously optimistic toward new prospective therapies until they're clinically proven to be successful.   Will QR 678 deliver and truly become clinically proven to stop and reverse hair loss or will it become another casualty in the seemingly endless race toward finding another effective  hair restoration therapy?
Like many other injectable hair growth therapies, QR 678 bases its formula around a series of growth factors derived from the human body that are allegedly responsible for stimulating natural cell growth and division. The two Hyderabad cosmetic surgeons who invented QR 678 claim they've extracted 5 growth factors responsible for the division and growth of hair follicles and combine these elements in the QR 678 therapy.
QR 678 requires a series of 5-8 injections based 2-3 weeks apart and combine their product with Mesotherapy, which supposedly helps guide the growth factors to the appropriate tissue layer.
In a double-blind, clinical trial involving over 750 patients, 80% hair regrowth was visualized in over 90% of the study participants at 6 months.
This all sounds fantastic, so why should one remain cautiously optimistic regarding QR 678 and its ability to regrow hair? Although inventors claim a 750 subject, double-blind study was conducted; no data or papers were published nor were any objective patient photographs submitted.   This is essentially unheard of for a study of this magnitude.   The inventors provide 2, dimly-lit patient photographs on their website, but neither appear to demonstrate clear results nor enough clarity for any type of real analysis. Additionally, the terms used in describing the growth are extremely vague and are not reinforced by any data whatsoever.
Although the treatment is available now, no safety clearances have yet been received however, this may be sought after in the future. Additionally, growth factor extraction and injection is still a relatively new area of regenerative medicine. These growth factors are extremely complex, complicated, and to date, nobody truthfully knows how some of these molecules will interact with each other when extracted, cultivated and re-injected. It may still be some time before they are fully understood, and there could be definite consequences involved with injecting these specific factors into the human body.
At this point in time, it is unclear whether or not injectable, growth factor based therapies will significantly treat hair loss. A product like QR 678 could revolutionize the industry, or it could provide insignificant results and create undesired consequences. Until a time when these methods are standardized, tested, and proven both effective and safe, it's probably more efficient to rely on proven methods and remain "cautiously optimistic" toward future breakthroughs.
_______________
Blake – aka Future_HT_Doc
Editorial Assistant and Forum Co-Moderator for the Hair Transplant Network, the Hair Loss Learning Center, the Hair Loss Q&A Blog, and the Hair Restoration Forum
Follow our community on Twitter
Watch hair transplant videos on YouTube
Get Proven Hair Loss Treatments at the Best Prices by visiting our new Online Hair Loss Product Store
Technorati Tags: QR 678, baldness, hair loss, hair restoration, Hair Transplant, balding men, hair restoration therapy, growth factors, hair follicles, hair regrowth, regrow hair