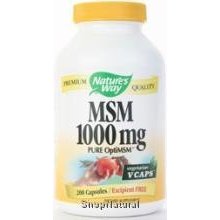 Methyl-Sulfonyl-Methane (M.S.M.) is an organic sulfur compound which is a metabolite of dimethyl-sulfoxide (D.M.S.O.). MSM is a supplement that is widely regarded for helping to ease pain and stiffness in joints. Many bodybuilders take it for this reason. It also promotes healthier and faster growth of hair follicles and nails since all of these are made up of similar materials. MSM is very cheap and easy to obtain. It can be found in nearly any health food store, vitamin shop, grocery store, or drug store in the U.S.
MSM does absolutely nothing to help regrow hair or even maintain hair counts for sufferers of male-pattern baldness. However, since it can help speed hair follicle growth it is a popular supplement for hair restoration surgery patients to utilize since it is thought to help speed the rate of initial growth for transplanted grafts. The typical ]dose of MSM for this capacity is around 1,500 to 3,000 mg per day.
I have used MSM after both of of my hair transplanted surgeries and I can vouch that it certainly seemed to accelerate the rate of my hair and nail growth. Whereas I usually have to clip my nails once every two weeks or so, while using MSM I have to clip them at least every week; sometimes twice a week. I can usually go a month between hair cuts to keep a relatively neat, short hair cut but while using MSM I am running back to the stylist after only 2 weeks. Since I used MSM after both surgeries I can't say as to whether I would have experienced slower graft growth without it or not but I can say that both times I experienced early graft growth.
My bottom line: MSM can be a useful supplement for the hair transplant patient's post-op supplement regimen for at least the first 6 months after surgery. Additionally, I believe that MSM may speed the rate of regrowth when used in conjuction with the growth stimulator minoxidil. MSM is cheap enough to at least give it a shot; just remember that it will not help grow new hair or maintain hair counts; just speed the rate of growth.
Next: Propecia vs. Avodart; Which Internal DHT Inhibitor Should You Choose?
-RobertEditor of the Hair Loss Q & A Blog.
Technorati Tags: M.S.M., supplement, MSM, MSM, male-pattern baldness, hair transplant