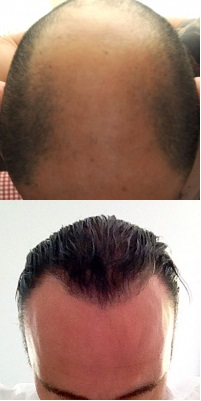 Several months ago, we started a new feature at our hair loss community: the Hair Transplant Patient of the Week.
Each week, we review hair transplant cases posted by patients on our Hair Restoration Discussion Forums and select one particularly excellent result as our Hair Transplant Patient of the Week.
In May, we selected three community members as our patients of the week:
First was JollyFolly, who received 4,020 grafts via strip extraction from Dr. Damkerng Pathomvanich. At age 17, JollyFolly first noticed his hair loss. Nearly 20 years and thousands of hours of research later, JollyFolly found the Hair Transplant Network and booked a procedure with "Dr. Path." During a 9.5 hour procedure, Dr. Pathomvanich used 4,020 grafts to rebuild JollyFolly's hairline, temples, frontal scalp, and (partial) midscalp. Recently, JollyFolly shared a 21 month update with the community, and the results are great! To review, the 21 month update, please see the following: JollyFolly – 21 Months After 4,020 Grafts with Dr. Pathomvanich. 
Next was Iamx121 who received 1,800 grafts via the strip extraction method from Dr. Alan Feller. After years of worrying about his hair loss and trying preventive medications like minoxidil (Rogaine) and finasteride (Propecia), Iamx121 decided to treat his hair loss surgically and began researching physicians. Eventually, he found Coalition hair transplant surgeon Dr. Alan Feller and booked a Follicular Unit Transplant (FUT) (via strip extraction) procedure. On October 22nd, 2012, Iamx121 underwent a 1,800 graft procedure with Dr. Feller to rebuild his hairline and frontal scalp. Recently, Iamx121 shared a 7 month update of his procedure, and the results are impressive! To review the 7 month update, please see the following: Iamx121 – 7 Months After 1,800 Grafts with Dr. Feller. 
Last was Markk, who received 3,700 grafts via strip excision from Dr. Bessam Farjo. In 2012, Markk decided to treat his hair loss surgically, and scheduled a procedure with Dr. Farjo. Although the surgery went well, Markk suffered from shock loss during the post-operative period. However, despite the shock loss, Markk continued to remain optimistic and keep our community updated on his progress. Recently, Markk shared a 12 month update, and it's clear that both his decision to seek surgery with Dr. Farjo and his patience paid off! To review Markk's impressive 12 month results, please see the following: Markk – 12 Months After 3,700 Grafts with Dr. Farjo. 
Please join me in congratulating May's Hair Transplant Patients of the Week. Additionally, stay tuned for June's patients of the week at the end of this month.
__________
Blake – aka Future_HT_Doc
Editorial Assistant and Forum Co-Moderator for the Hair Transplant Network, the Hair Loss Learning
Center, the Hair Loss Q&A Blog, and the Hair Restoration Forum
Follow our community on Twitter
Watch hair transplant videos on YouTube
Technorati Tags: hair loss, Hair Transplant, Hair Restoration, Hair Transplant Network, Follicular Unit Transplant