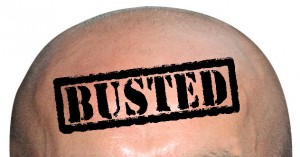 Despite the best efforts of patient-driven hair loss communities such as the Hair RestorationForum and Social Network, misinformation, myths, and outright lies about the causes of and treatments for hair loss abound on the Internet. Some of these fabrications are, in fact, elaborate ploys to market and peddle ineffective hair loss cures to unwary balding men and women. To set the record straight regarding the cause of androgenic alopecia, let's bust some more popular hair loss myths:
Wearing a hat causes hair loss: Hats, especially the venerable baseball cap, have been scorned by balding men and women for ages as the root of the hair loss problem.   But have no fear; there's no need to forgo the chapeau! Wearing a hat will not cause nor will it exacerbate thinning hair.
Brushing with a boar bristle brush stimulates hair regrowth: Many hair loss myths surround the act of brushing hair. Hair brushing is both heralded as a hair growth stimulant and derided as a hair loss accelerator. But, many believe in the magical hair growth powers of boar bristles. In truth, boar bristle brushes do help spread sebum across the length of the hair shaft. This helps to naturally moisturize, protect and add shine to the hair. They may also stimulate blood flow and speed hair growth to some degree but for the 2/3 of men and women experiencing genetic hair loss, brushing with one of these will simply not regrow hair.   Conversely, brushing your hair will not cause it to fall out either.
A hairy body means a hairless head: Simply put, there is no correlation between the degree of body hair a person has and how bald they may become. Men and women with naturally fine and light body hair have the same chances of experiencing hair loss as their more hirsute counterparts.
Hair loss only affects men: In truth, up to 40% of American hair loss suffers are female. However, women often do a much better job of hiding their hair loss than men since it is more acceptable for females to wear wigs, weaves and extensions. Despite this fact, hair loss is often much more devastating for women due the notion that it's a typically male condition.
Women aren't attracted to bald men: False! There are lots of guys who carry the bald look well and some who even look better without hair. However, for many bald men, hair loss has a negative impact on their self-esteem. For some, this feeling of being unattractive may only be an illusion but it is one with devastating consequences. Remember, women are attracted to confident men. A man who is fit, confident and well-dressed will be attractive to many women regardless of hair loss.
So what causes hair loss and how can it be treated? Genetic balding (androgenic alopecia) is caused by the powerful sex hormone DHT. Among other things, DHT causes genetically-prone hair follicles to initiate a process of miniaturization and eventually die. Currently, the best method of treating genetic balding is with a combination of Propecia (finasteride) and Rogaine (minoxidil). These two drugs have a synergistic and complementary effect on the thinning, balding scalp. For more credible and proven hair loss treatments at the best prices online, visit our new online store.
—-
David – aka TakingThePlunge
Assistant Publisher and Forum Co-Moderator for the Hair Transplant Network, the Hair Loss Learning Center, the Hair Loss Q&A Blog, and the Hair Restoration Forum
Get Proven Hair Loss Treatments at the Best Prices by visiting our new Online Hair Loss Product Store
Technorati Tags: hair loss, Hair Restoration, hair loss cure, androgenic alopecia, thinning hair, hair regrowth, hair growth, regrow hair, bald, Genetic balding, DHT, Propecia, finasteride, Rogaine, minoxidil, balding, hair loss treatments