It's been over 3 months since my follicular unit extraction (FUE) hair transplant. I'm now getting some red bumps in the recipient area. Is this some sort of infection? Will they go away on their own or do I need to treat them?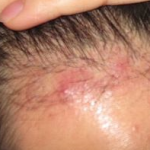 This sounds perfectly normal. You have reached the stage when a lot of new hair growth is stirring below the surface of the scalp. These hairs sometimes fail to exit the skin initially and that results in ingrown hairs. It may also be due to folliculitis or inflammation of the hair follicles. These can become large and quite painful and may even burst and bleed.
Typically, it's not necessary to treat them. You can simply leave them alone and allow them to resolve themselves. If you feel the need to relieve the pressure, you should follow the advice of your hair transplant surgeon. Some may suggest squeezing them while others recommend only lancing them with a sterilized needle
If the condition should worsen, contact your hair restoration physician or regular doctor immediately. You may require medication to treat the infection.
—-
David
Editorial Assistant and Forum Co-Moderator for the Hair Transplant Network, the Coalition Hair Loss Learning Center, and the Hair Loss Q & A Blog.
Technorati Tags: follicular unit extraction, FUE, hair transplant, hair restoration