A new study, published in the Archives of Dermatology, suggests that certain hair styles may cause a specific type of hair loss in African-American women.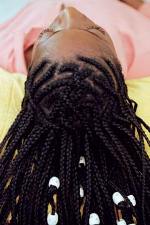 Along it's been associated with female hair loss in African-American females for quite some time, central centrifugal cicatricial alopecia, or "scarring hair loss" – a condition where excess hair pulling results in follicular inflammation, scarring, and eventual loss, was thought to occur from using hot-comb straightener and, until now, was never fully investigated.
However, Cleveland Clinic Dermatologist Dr. Angela Kyei recently decided to take a deeper look at scarring hair loss and determine whether or not a correlation existed between certain hair styles (namely tight braiding and hair weaves) and central centrifugal cicatricial alopecia in African-American females.
The study investigated over 326 women and found 28% suffering from some type of hair loss; 60% of that 28% suffering from serious balding, and discovered that more than half of these 60% of women had either tight hair braids, hair extensions, or hair weaves. According to Dr. Kyei, this study does not prove that these hair styles directly cause scarring hair loss, but does demonstrate an interesting correlation and requires further research.
_______________
Blake Bloxham – formerly "Future_HT_Doc"
Editorial Assistant and Forum Co-Moderator for the Hair Transplant Network, the Hair Loss Learning Center, the Hair Loss Q&A Blog, and the Hair Restoration Forum
Follow our community on Twitter
Watch hair transplant videos on YouTube
Get Proven Hair Loss Treatments at the Best Prices by visiting our new Online Hair Loss Product Store
Technorati Tags: hair loss, African-American, female hair loss, central centrifugal cicatricial alopecia, "scarring hair loss", tight braiding, hair weaves, balding