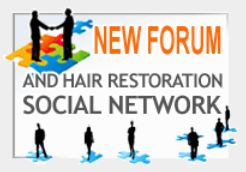 Men and women suffering from hair loss are always seeking new methods of restoring  their lustrous locks.  Two popular hair restoration related topics regularly discussed on our hair loss forum include the highly coveted hair transplant technique referred to as follicular unit extraction (FUE) and a unique scalp tattooing procedure referred to as scalp micropigmentation (SMP).  Thus, we've recently added a new category for each of these topics for members to discuss on our popular community.
To discuss the pros and cons of FUE and view real patient results, visit our new forum Follicular Unit Extraction (FUE).  To discuss and learn more about scalp micropigmentation, visit our new forum, Scalp Micropigmentation (SMP).
Follicular unit extraction (FUE) is a hair transplant procedure that utilizes a small punch to harvest individual follicular units containing one to four hair follicles. This procedure has become very popular in recent years with men who wish to wear very short hairstyles without concern for the telltale strip scar associated with follicular unit transplantation FUT.
Scalp Micropigmentation is a non-surgical procedure that is currently receiving a lot of buzz. This procedure involves tattooing a balding scalp in order to mimic the appearance of a closely cropped head of hair. While still in its infancy, the procedure is quite intriguing and may hold promise as a complement to hair transplants, adding to the illusion of density in the same way concealers like Toppik and DermMatch work, only permanently.
We  look forward to your involvement on our hair restoration forum and social community.
—-
Technorati Tags: hair loss, hair loss forum, follicular unit extraction, FUE, scalp micropigmentation, SMP, FUE, hair transplant, follicular unit transplantation, FUT, balding, hair transplants, Toppik, DermMatch