There is a lot to say about minoxidil so I am dividing it up into 3 posts.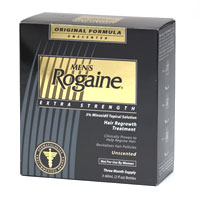 In 1995 thinning guys across America rejoiced. This was the year that minoxidil, the first FDA-approved medication for the treatment of male-pattern baldness, was available over-the-counter. It was previously only available by prescription and usually at pretty high prices to boot. Minoxidil is manufactured and distributed under the brand name Rogaine, however generics are also available.
Minoxidil was first utilized in a compound created by Upjohn Laboratories to treat high blood pressure (hypertension). An interesting side-effect was noticed that patients began to grow hair where it had previously been lost and even where it was never supposed to be in the first place, such as around women's breasts and on the inside of women's forearms
Upjohn quickly realized the potential of marketing the compound as a hair loss treatment and launched a large campaign worldwide to further test its efficacy. The results were pretty impressive, though not mind-blowing. Around 80% tested reported "satisfactory results" (this meant the user lost no more hair) and around 20% reported regrowth. The regrowth, however, was limited to very thin hair (vellus hair) and grew to only 2 or 3 centimeters. Don't be quick to judge those results as completely negative, however. It has been established that small, thin hair coverage can add tremendously to the overall look and thickness of the hair. Before one automatically dismisses the advantages of minoxidil as being unimportantly minute, he should consider that big things can come in small packages – those little hairs do a lot.
Minoxidil is available in stores in two strengths: 2% and 5%. The 2% concentration is marketed as "regular strength" while the 5% is touted as "extra strength." The 2% concentration is also available for use by women. There are other companies that distribute concentrations as high as 15%.
Minoxidil is a lotion that is applied directly to the scalp twice per day. The user must continue applying the treatment for an indefinite amount of time, or as long as he wishes to keep the hair that is grown by minoxidil. The application process is fairly simple. The standard amount in each bottle is 60 mL of fluid. The suggested application is 1 mL to the area twice daily, so one bottle equates to 30 days of minoxidil. The lotion is applied by a dropper to the scalp and is rubbed into the scalp.
It is generally accepted (and advertised on Rogaine boxes and literature) that minoxidil can start growing new hair in about four months. Users can experience growth a little sooner and a little later than the advertised four months, however. There is a chance that a brief shedding period will last from two weeks to a month after the medication is started, but that is usually temporary barring any scalp inflammation.
Some hair restoration physicians advocate the use of minoxidil shortly after surgery to help promote optimum scalp conditions and to possibly keep the follicles from entering the telegen cycle directly after they are transplanted. Minoxidil is also thought to be able to spur the transplanted hairs to grow faster.
Next: Minoxidil (Rogaine) Part 2: Pros, Cons, and Side Effects
-Robert
Editor of the Hair Loss Q & A Blog.
Technorati Tags: minoxidil, male-pattern baldness, Rogaine, side-effect, regrow, thin hair, vellus hair, inflammation