This comment, addressed by Coalition hair restoration surgeon Dr. William Lindsey, was shared by a member of our Hair Loss Social Community and Discussion Forums:
Will

follicular unit extraction (FUE)

into a pencil-thin scar allow you to buzz your hair short? I have seen a couple of posts where people say they can now go down to a grade 2 (1/4″) but I haven't seen a definitive consensus on people who have pencil-thin scars to start with. If they FUE into the scar would the scar not be noticeable if you shaved your head?

It all depends on your physiology, your scar and your hair thickness. If you have nice thick donor hair to put into a scar that is not too bad then yes, you can "cure" the problem. However, that is often not the case. Hair transplant donor scars are often hard and the donor hair more likely will give a 50% improvement or so.
I saw two guys today that were all worked up about scars they had from other hair restoration clinics but they both had long hairstyles and I had no idea why they were at my place until they pulled up the hair in back.
I felt both needed a scar excision and, a year later, FUE into the scar (probably around 10k worth of work) and frankly I told them that, while I would be glad to take their money, there were probably better ways to spend their money than dealing with a hidden scar.
The example below is a nearly perfect scar on a virgin head. This is what I call a pinpoint scar.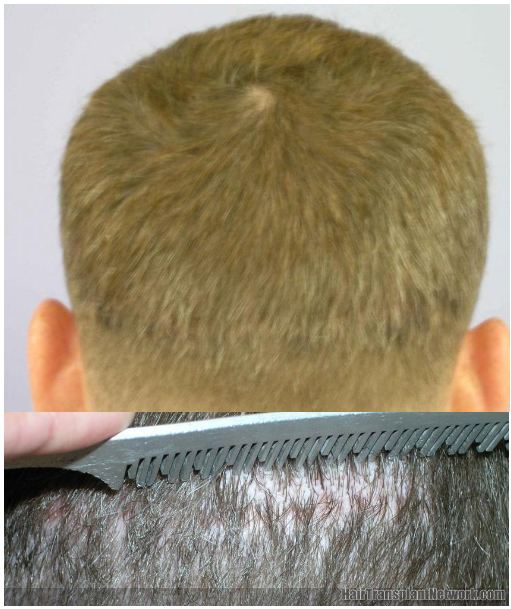 Dr. William Lindsey – McLean, VA
—–
David (TakingThePlunge)
Editorial Assistant and Forum Co-Moderator for the Hair Transplant Network, the Coalition Hair Loss Learning Center, and the Hair Loss Q & A Blog.
To share ideas with other hair loss sufferers visit the hair loss forum and social community
Get Proven Treatments at the Best Prices by visiting our new online hair loss treatment shop.
Watch hair transplant videos on YouTube
Follow us on: Facebook | Twitter | YouTube
Technorati Tags: follicular unit extraction, FUE, Hair transplant, hair restoration