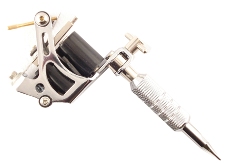 A growing alternative in the field of cosmetic enhancements, Micropigmentation refers to aesthetic tattooing, usually performed on the face and scalp. Sometimes called "permanent makeup," Micropigmentation is sought by patients for recreating lost or underdeveloped facial hair (such as beards, mustaches, and eyebrows), eyelid darkening (to create the appearance of permanent upper eye makeup), creating the appearance of hair in balding scalp, and also for reducing the appearance of a scar (in many cases, scars created by follicular unit transplantation/FUT surgeries).
Because this process has applications in creating the appearance of restored hair it's often a subject of discussion on our Hair Restoration Social Community and Discussion Forums. However, despite numerous hair loss sufferers inquiring whether or not it's a suitable alternative to preventive medications (such as minoxidil/Rogaine or finasteride/Propecia) or hair transplant surgery and asking who performs these procedures and where, it's difficult to obtain substantial information regarding Micropigmentation.
Many cosmetic surgery organizations question the regulation of the practitioners and products used in Micropigmentation, but since this procedure is often requested and asked about by hair restoration patients, it's important to garner the opinion of a hair loss expert. Fortunately, in a recent Micropigmentation discussion, Coalition hair transplant surgeon Dr. Cam Simmons offered his opinion on the procedure and whether or not he would recommend it to hair loss patients:
While I am no expert on micropigmentation or tattooing itself, I do believe that there are several issues concerning Micropigmentation on balding scalp and hair transplant scarring:
It's my understanding that the ink used to tattoo (which is applied to match the color of the native hair) can often fade and change color with time. For example, black ink can turn blue and brown ink can easily fade. Black (or blue) dots may look natural when you're young, but what happens when hair turns white?
Dr. Cam Simmons
Because of hesitation from medical professions and national medical societies, it's probably best to proceed with caution while researching Micropigmentation and worthwhile to consider proven hair restoration treatments for the time being. It's very likely that more information and regulation regarding this practice will come to light as Micropigmentation continues gaining popularity, but this simply isn't the case for the time being.
_______________
Blake – aka Future_HT_Doc
Editorial Assistant and Forum Co-Moderator for the Hair Transplant Network, the Hair Loss Learning Center, the Hair Loss Q&A Blog, and the Hair Restoration Forum
Follow our community on Twitter
Watch hair transplant videos on YouTube
Get Proven Hair Loss Treatments at the Best Prices by visiting our new Online Hair Loss Product Store
Technorati Tags: Micropigmentation, permanent makeup, balding scalp, follicular unit transplantation, FUT, hair loss, minoxidil, Rogaine, finasteride, Propecia, hair transplant surgery, hair restoration patients, hair loss expert, hair transplant surgeon, hair transplant scar