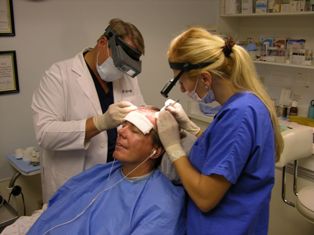 Dr. Christopher Gencheff has personally performed over 15,000 hair transplantation procedures and is one of the most experienced hair restoration surgeons in the Midwest and among the top nationwide. So when I was in the Midwest in October of 2005 I made sure to visit his clinic to see him and his staff in action.
After spending the day with Dr. Gencheff and his staff I was impressed by the very hands on approach Dr. Genscheff takes to surgery. He not only makes all graft incisions and places many of the grafts, but also works side by side with his medical technicians in trimming the grafts to assure quality. His staff of very experienced surgical technicians are very conscientious and have worked with him for many years.In my opinion he does very solid follicular unit grafting and is ethical and conscientious. His clinic has a family feel and his medical techs have been with him for a long time.After visiting his clinic, reviewing his patient photos, seeing him and his staff in action and learning more about his professional reputation I decided to recommend him on the Hair Transplant Network.
View more photos of this hair restoration surgical visit.
View more posts that highlight visits to leading hair restoration clinics.
Pat Hennessey,
Publisher of the Hair Transplant Network and the Hair Loss Learning Center.
Technorati Tags: hair restoration