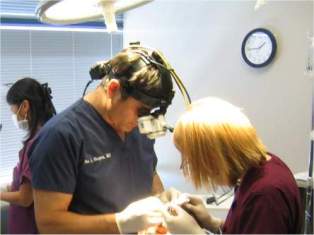 Over eight years ago I had my first of three life changing follicular unit hair transplant sessions with Dr. Ron Shapiro in Minneapolis. Not only did this experience change my life but it also inspired me to ultimately create the Hair Transplant Network and the Hair Restoration Research Discussion Forum. See my story or visit my Weblog.
I was very lucky to have met Dr. Ron Shapiro for many reasons, including that he was way ahead of his time in mastering and teaching follicular unit hair transplantation. I've learned a great deal about hair restoration from Dr. Ron Shapiro and to this day he remains my "Gold Standard" for the very best in hair restoration surgical technique.

I have had the opportunity to see him perform surgery on numerous occasions. In my opinion, his artistry, skill and ethics remain unsurpassed. The hair restoration work of Dr. Shapiro and his staff has continually evolved and grown more refined since I first did surgery with him over eight years ago. At that time my first session of 1,450 grafts was considered to be a "mega" session. Today such a session would be considered small.
The Shapiro Medical Group has a large staff of technicians, which enables them to provide patients with the optimal number of grafts that can be safely done in one session. Thus depending on the patient's donor supply and their needs the Dr. Shapiro and his staff can provide from 1,000 to over 4,000 microscopically prepared follicular unit grafts.
Dr. Shapiro has also moved toward using tiny custom cut blades that enable him to create minimally invasive incisions very close together. This has enabled his patients to achieve higher densities of hair growth in a given area after only one surgical session.
His attention to the finest details and his meticulous approach to surgery have produced consistently outstanding results for his patients over the years. One need only use the "Find" feature on the Hair Restoration Research Forum to search for posts regarding "Shapiro" to see the hundreds of satisfied patient posts that attest to this.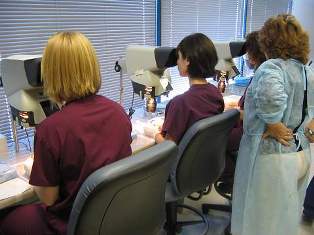 To assure minimal disruption to existing hairs in the recipient area, Dr. Shapiro has begun using a sophisticated 10 power computer imaging device while making the graft incisions. To date he is the only hair restoration surgeon in North America using this sophisticated imaging system. While this devise is expensive, Dr. Shapiro has chosen to spare no expense to assure optimal quality and minimal transaction of existing follicles.
View visits to other leading hair restoration clinics.
Pat Hennessey,
Publisher
Technorati Tags: follicular unit, hair transplant, hair restoration, surgical, follicle