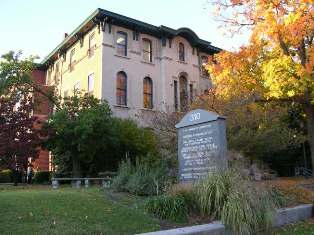 I always knew that Dr. Parsley was one of the true "Good Guys" in the hair restoration profession and known for his dedication and compassion. But seeing him and his staff putting these values into practice was truly impressive. They took every measure possible to optimize the patient's procedure at every step of the way. It's no wonder that Dr. Parsley was awarded the Golden Follicle Award in 2003.
Dr. Parsley's wife, Mary Ann Parsley, R.N., is also a real gem and just this year was awarded the 2005 Distinguished Assistant's Award by the International Society of Hair Restoration Surgery (ISHRS) during its meeting in Australia. This award is the surgical technician's equivalent of the Golden Follicle Award. I'm quite sure they are the only husband and wife team to have such prestigious and well deserved awards sitting side by side. Together they set both a high standard and example for their entire team.
In addition to Mary Ann, three of the other surgical techs are also certified RNs. While this may not be necessary it is impressive to see such a qualified staff preparing the grafts.

As follicular unit surgery was emerging in the early 1990's, Dr. Parsley was one of the first to convert to using microscopes to prepare follicular unit grafts. His introduction to this state of the art procedure began in early 1990's with a trip to the Moser Clinic in Germany. He later advanced his follicular unit grafting with a trip to Dr. Bob Limmer's office in early 1996. He and his staff have continued to be at the cutting edge of hair transplant surgery.
Dr. Parsley carefully creates all the incisions using very tiny custom cut blades. By carefully controlling the angle, depth and direction of these incisions he creates a very natural pattern and direction for the new hair, even in the temple and sides. The special instruments he uses create tiny and minimally invasive incisions that enable very small grafts to be placed close together. This enables his patients to achieve cosmetic density. Dr. Parsley prefers to make the graft incisions "laterally" (i.e. perpendicular to direction of the hair growth) to optimize the cosmetic appearance of fullness for the new hair. He also places many of the grafts himself.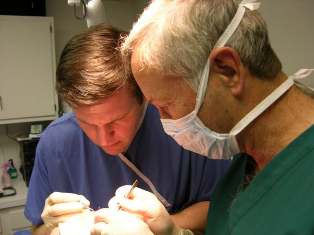 All follicular unit grafts are trimmed under microscopes that are lighted by fiber optic light for optimal visualization. I was impressed to see that even for a relatively small case Dr. Parsley had six technicians carefully trimming grafts. The whole procedure seemed very unhurried as Dr. Parsley and the entire staff took plenty of time to do their absolute best.

The clinic also goes the extra mile by placing all donor tissue in a Plasma-Lyte A solution that is PH balanced to human tissue. While most hair transplant clinic's feel that simple saline solution is sufficient Dr. Parsley and his staff believe that the potential benefit of this solution justifies the added expense.
In my opinion, follicular unit grafting does not get any more refined, careful or excellent. Dr. Parsley, Mary Ann and their entire staff deserve kudos for going the extra mile at every step to assure optimal results for their patients.
Once again, Dr. Parsley and his clinic are one of those quiet gems in the rough clinics who just don't get the recognition online for the very high level of world class work they do. Sometimes I wish Dr. Parsley would be less modest and show off his work online. But modesty seems to be characteristic of the truly great physicians.
View more photos from this visit to Dr. Parsley's clinic.
View more visits to leading hair restoration clinics.
Pat Hennessey,
Technorati Tags: Hair Restoration, follicular unit, hair transplant